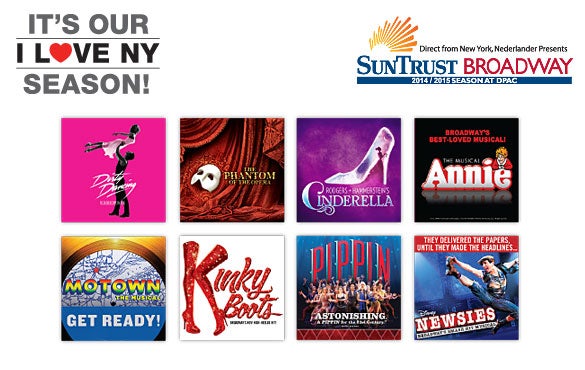 Sat,

Mar

1
Direct from New York, Nederlander Presents SUNTRUST BROADWAY AT DPAC, 2014 / 2015 SEASON
It's Our "I LOVE New York" Season! Direct-from- New-York, Nederlander presents the SunTrust Broadway at DPAC, 2014 / 2015 Season. The seventh season of SunTrust Broadway at DPAC has been deemed the "I Love New York" season as seven of the eight shows are current top ten hits on Broadway while the eighth has received world-wide recognition. Past seasons have always featured the newest and best shows from New York, but this season is truly astonishing. In all, these eight shows have garnered over 70 Tony® nominations and over 30 Tony® Award wins on Broadway.

With over 14,000 Season Seat Members, DPAC is proud to be the Triangle's #1 performing arts series and along with Nederlander, has committed to bringing the best of Broadway to the Triangle in the 2014 / 2015 Season.

Worldwide smash-hit DIRTY DANCING – the classic love story set to open the season, September 16-21. The Scotsman says "take a deep breath and prepare to be dazzled" by Cameron Mackintosh's spectacular new production of Andrew Lloyd Webber's THE PHANTOM OF THE OPERA coming DPAC's stage for two weeks, October 8-19. USA Today says it's a "dazzling delight for all ages;" Rodgers + Hammerstein's CINDERELLA tells the story of what really happened between rags and riches November 18-23. Leapin' lizards – the world's best-loved musical ANNIE is back in a brand new incarnation of the iconic original, December 9-14. It's "more than a Broadway show… [it's] a celebration of music that transformed America" (CBS Sunday Morning) – MOTOWN THE MUSICAL is the true American dream of Berry Gordy's journey as the music mogul who launched the careers of true music icons (February 17-22). Winner of six Tony® Awards including Best Musical, it's the "hottest Broadway show of the year" (ABC News) KINKY BOOTS, March 10-15. Taking the stage May 12-17, PIPPIN is the Tony® Award-winning best revival that Entertainment Weekly calls "dazzling and awe-inspiring." Closing out the season June 2-7 is the winner of 2012 Tony® Awards for Best Score and Best Choreography NEWSIES in "an irresistible high energy winner!" (Entertainment Weekly)

Tickets for the "I LOVE NEW YORK" Season shows are currently available as part of the SunTrust Broadway, 2014 / 2015 Season package. Prices for the season will vary depending on titles and seats selected, and whether choosing the full eight-show or flexible seven-show package.

Current SunTrust Broadway at DPAC Season Seat Members will receive renewal packages in the mail over the next week and will have until May 10, 2014 to renew. Those that renew by April 1 receive an easy payment plan (with the option of the year-round monthly plan) and a chance to win a trip to New York City!

"Every season, we cannot wait to share the details on the newest shows coming right from Broadway and London's West End to DPAC," stated Bob Klaus, General Manager of DPAC. "This year might be our best ever, with seven of our eight shows being current top ten hits in New York and the eighth show being one of London's biggest musicals. With 14,000 Season Seat Members waiting for this announcement, the pressure is always on and more than ever I think the booking teams at Nederlander and PFM have really delivered. "

The SunTrust Broadway at DPAC, 2014 / 2015 Season includes:
• DIRTY DANCING: September 16-21, 2014
• THE PHANTOM OF THE OPERA: October 8-19, 2014
• Rodgers + Hammerstein's CINDERELLA: November 18-23, 2014
• ANNIE: December 9-14, 2014
• MOTOWN THE MUSICAL: February 17-22, 2015
• KINKY BOOTS: March 10-15, 2015
• PIPPIN: May 12-17, 2015
• NEWSIES: June 2-7, 2015

SunTrust Broadway at DPAC Season Seat Member benefits are our first priority. Season Seat Members receive many benefits including the option of our full eight-show package or opting out of one of the season shows with the flexible seven-show package, with special savings off individual ticket prices (*excluding Gold Circle seats), as well as the best seats, complimentary parking, flexibility to exchange tickets, and easy year-round payment plans with no interest.

For more information contact [email protected] or call the DPAC Ticket Center at 919-680-2787, with the following hours:

Monday through Friday: 10 a.m. – 5 p.m.
Saturday: 10 a.m. – 2 p.m.
*Note that when there is a scheduled performance, the DPAC Ticket Center is open three hours prior to show time through intermission. Visit DPACnc.com to see a full calendar of upcoming events.

Or visit the DPAC Ticket Center in person at 123 Vivian Street, Durham, NC 27701 during the above hours.

Tickets for individual shows will go on sale this summer and fall. For more information on SunTrust Broadway at DPAC benefits, visit SunTrustBroadway.com.

Detailed information DPAC's "I LOVE NY" Season below:

DIRTY DANCING: September 16-21, 2014

"Brilliantly staged" – The Times

The classic story on stage is an unprecedented live experience, exploding with heart-pounding music, passionate romance and sensational dancing. Seen by millions across the globe, this worldwide smash hit tells the classic story of Baby and Johnny, two fiercely independent young spirits from different worlds who come together in what will be the most challenging and triumphant summer of their lives. Featuring the hit songs, "Hungry Eyes," "Hey Baby," "Do You Love Me?" and the heart-stopping "(I've Had) The Time of My Life." London's Sunday Express says "This crowd-pleasing stage adaptation hits the jackpot!" Don't miss your chance to see this record-breaking live theatre sensation. You'll have the time of your life!

THE PHANTOM OF THE OPERA: October 8-19, 2014

"Extraordinarily opulent. This PHANTOM's storytelling and relationships have an electrifying tension!" – Chicago Sun-Times

Following an acclaimed sold-out tour of the United Kingdom, Cameron Mackintosh's spectacular new production of Andrew Lloyd Webber's phenomenal musical success, THE PHANTOM OF THE OPERA, will come to DPAC as part of a brand new North American Tour. Hailed by critics as "bigger and better than ever before," this production boasts many exciting special effects including the show's legendary chandelier, new scenic and lighting designs, new staging and choreography. The beloved story and thrilling score will be performed by a cast and orchestra of 52, making this PHANTOM one of the largest productions now on tour.

Rodgers + Hammerstein's CINDERELLA: November 18-23, 2014

"A dazzling delight for all ages! CINDERELLA casts a new spell on Broadway!" – USA Today

Rodgers + Hammerstein's CINDERELLA is the Tony Award®- winning Broadway musical from the creators of The Sound of Music and South Pacific that's delighting audiences with its contemporary take on the classic tale. This lush production features an incredible orchestra, jaw-dropping transformations and all the moments you love—the pumpkin, the glass slipper, the masked ball and more—plus some surprising new twists! Be transported back to your childhood as you rediscover some of Rodgers + Hammerstein's most beloved songs, including "In My Own Little Corner," "Impossible/It's Possible" and "Ten Minutes Ago," in this hilarious and romantic Broadway experience for anyone who's ever had a wish, a dream... or a really great pair of shoes.

ANNIE: December 9-14, 2014
"Spectacular on every count." – Newsweek

Leapin' Lizards!
The world's best-loved musical returns in a time-honored form. Directed by original lyricist and director Martin Charnin, this production of ANNIE will be a brand new incarnation of the iconic original. Featuring the beloved book and score by Tony Award®-winners Thomas Meehan, Charles Strouse and Martin Charnin, ANNIE includes such unforgettable songs as "It's the Hard Knock Life," "Easy Street," "I Don't Need Anything But You," plus the eternal anthem of optimism, "Tomorrow."

MOTOWN: February 17-22, 2015
"More than a Broadway show. A celebration of music that transformed America!" – CBS Sunday Morning
It began as one man's story… became everyone's music… and is now Broadway's musical. MOTOWN THE MUSICAL is the true American dream story of Motown founder Berry Gordy's journey from featherweight boxer to the heavyweight music mogul who launched the careers of Diana Ross, Michael Jackson, Smokey Robinson and many more. Motown shattered barriers, shaped our lives and made us all move to the same beat. Featuring classic songs such as "My Girl" and "Ain't No Mountain High Enough," experience the story behind the music in the record-breaking smash hit MOTOWN THE MUSICAL!

KINKY BOOTS: March 10-15, 2015

"Dazzling and joyful!" – Daily News

KINKY BOOTS is the exhilarating Broadway musical that will lift your spirits to new high-heeled heights! Winner of six Tony Awards® including BEST MUSICAL, this inspirational story follows a struggling shoe factory owner who works to turn his business around with help from Lola, a fabulous entertainer in need of some sturdy stilettos. Together, this unlikely pair finds that they have more in common than they ever dreamed possible… proving that when you change your mind about someone, you can change your whole world. Inspired by a true story, KINKY BOOTS features a joyous, Tony-winning score by CYNDI LAUPER, direction and Tony-winning choreography by JERRY MITCHELL and a hilarious, uplifting book by four-time Tony winner HARVEY FIERSTEIN. Come join the sold-out audiences who've discovered why – sometimes – the best way to fit in is to stand out!

PIPPIN: May 12-17, 2015

"Astonishing. A PIPPIN for the 21st century…dazzling and awe-inspiring!" – Entertainment Weekly

PIPPIN is back on Broadway for the first time since it thrilled audiences 40 years ago… the show the New York Times declared "ASTONISHING. A PIPPIN FOR THE 21ST CENTURY." It won the Tony Award for BEST MUSICAL REVIVAL! With a beloved score by Tony nominee STEPHEN SCHWARTZ (GODSPELL, WICKED), PIPPIN tells the story of a young prince on a death-defying journey to find meaning in his existence. Will he choose a happy but simple life? Or will he risk everything for a singular flash of glory. This captivating new production is directed by Tony winner DIANE PAULUS (HAIR and THE GERSHWINS' PORGY AND BESS). It features sizzling choreography in the style of BOB FOSSE and breathtaking acrobatics by LES 7 DOIGTS DE LA MAIN, the creative force behind the nationwide sensation TRACES.

NEWSIES: June 2-7, 2015

"Stop the presses! NEWSIES is an irresistible high energy winner" – Entertainment Weekly

They delivered the papers, until they made the headlines…Direct from Broadway comes NEWSIES, the smash-hit, crowd-pleasing new musical from Disney. Winner of the 2012 Tony Awards® for Best Score and Best Choreography, NEWSIES has audiences and critics alike calling it "A MUSICAL WORTH SINGING ABOUT!" (The New York Times) Filled with one heart-pounding number after another, it's a high-energy explosion of song and dance you just don't want to miss. Based on true events, NEWSIES tells the captivating story of a band of underdogs who become unlikely heroes when they stand up to the most powerful men in New York. It's a rousing tale about fighting for what's right…and staying true to who you are.