Wed,

Aug

9
DPAC and City of Durham Start $1.8 Million Improvement Project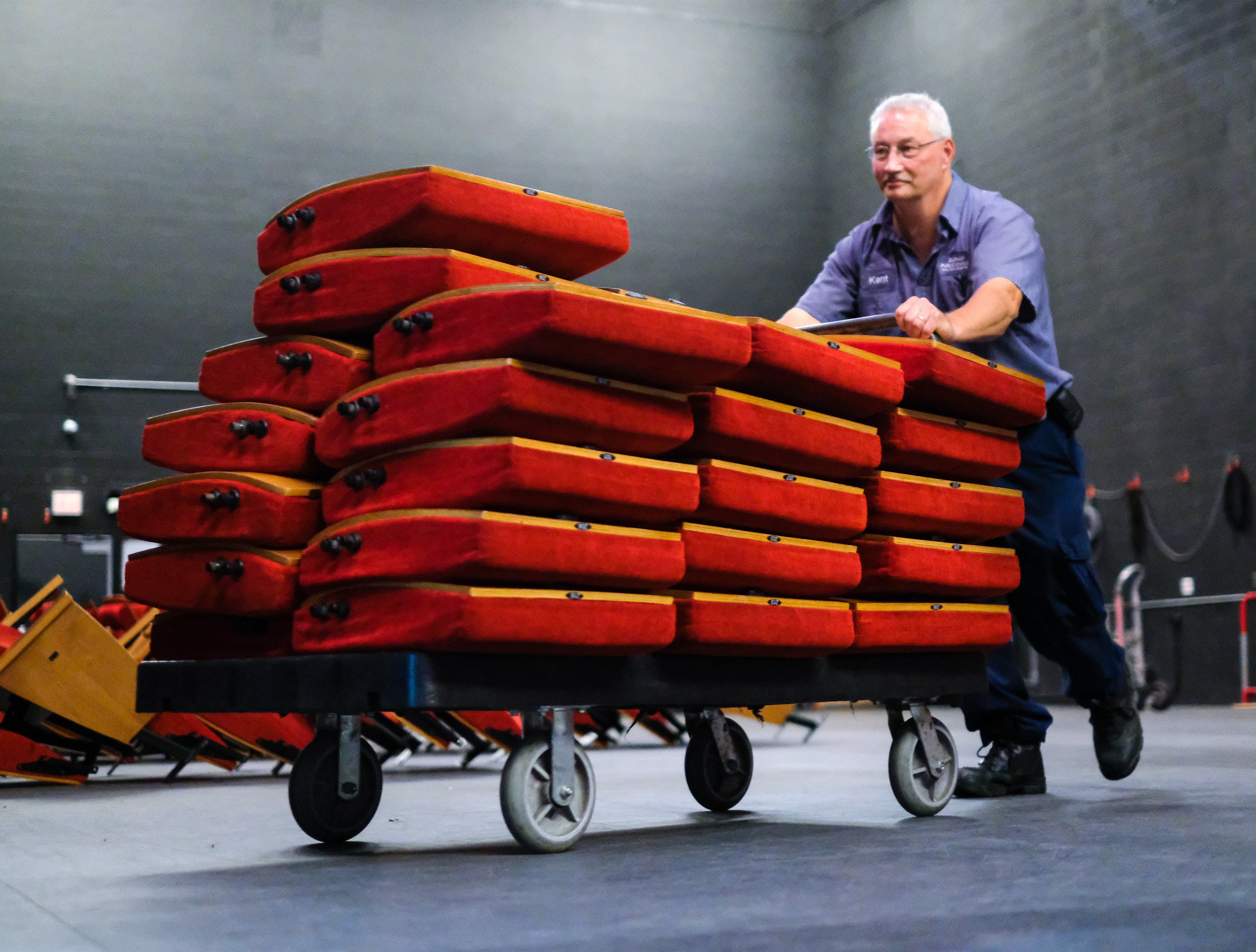 After welcoming more than 3.5 million guests during its first nine years of operation, DPAC is set for major improvements before the start of SunTrust Broadway at DPAC's new season that opens this September. Heading the list of improvements are new carpet throughout the lobbies and seating area and 2,712 new seats to replace the original seating.
Work on the $1.8 million project started August 7th. The high attendance numbers that have put DPAC among the country's top venues – and #4 among U.S. theaters, according to rankings released last month – contributed to the need for the improvements.
"Usually projects like this would be done after about 15 to 20 years, but we've been fortunate to have had so many guests at DPAC that the change to new carpet and seats needed to be made earlier than normal to keep DPAC among the very best theaters in America," DPAC's General Manager Bob Klaus said. "We are most excited about using this opportunity to install a much improved seat so that guests can be even more comfortable when they come to DPAC to enjoy a superstar live event."
The new seats are the Allegro model from Irwin Seating in Grand Rapids, Michigan, the seating company used by 95 percent of New York's Broadway Theaters – including Nederlander's Richard Rodgers Theatre where Hamilton currently performs, Nederlander's Minskoff Theatre home to Disney's The Lion King, and the Lincoln Center's Vivian Beaumont Theatre.
The new carpeting, from Bloomsburg Carpet Industries, is a blend of two shades of red American-made fiber and is woven in Pennsylvania on a velvet loom. Bloomsburg has installed carpeting at most theaters in New York and across the country, including DPAC's original carpet. The new carpet will utilize fade-resistant technology, which was not available when the original carpet was installed, to protect against fading due to the sunlight streaming through DPAC's many windows.
All products to be installed are American-made. A team from PFM, Nederlander and the City took two years to select the products, looking at hundreds of carpet samples and dozens of seat types. Funding for the project comes from a facility fee that is charged per ticket and held in a dedicated fund that the City of Durham maintains to ensure that DPAC continues as a world-class venue for years to come.
"These improvements are the best kind of investment in DPAC, ones that will continue to beautify the theater, while enhancing the comfort of the millions of show and concert guests season after season to come," said Mayor William V. "Bill" Bell. "For the last nine years, the shows always have been top-notch, and our guests deserve no less than a beautiful and welcoming facility in which to enjoy them."
The installation of the new seats and carpets will be finished by September 10th and are the latest step in over $15 million in improvements, renovations and capital replacement projects planned for the next 15 years.