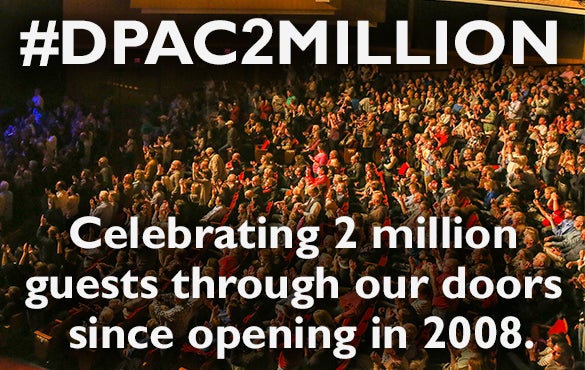 Fri,

May

9
DPAC Celebrates 2 Millionth Guest
This Tuesday night, DPAC's two millionth guest will walk through the doors for the opening night performance of Joseph and the Amazing Technicolor Dreamcoat. DPAC staff will be tracking arrivals to pinpoint the milestone guest and will be ready to celebrate the accomplishment by immediately upgrading the lucky guest with a prize pack valued at over $2,000.
Since opening in 2008, DPAC has presented over 530 hit Broadway performances, 180 concerts, and 60 celebrity comedians. Over 328 of these events have been total sellouts including multi-week runs of Disney's The Lion King, Broadway's #1 Blockbuster WICKED, artists Neil Young, Alabama, Patti LaBelle and David Gray as well as comedians Jerry Seinfeld, Bill Cosby, Chelsea Handler and many more. DPAC also continues to boast over 14,000 season seat members to its signature series, SunTrust Broadway at DPAC. This series is the Triangle's number one Performing Arts Series and has established DPAC as one of the country's leading theaters for Broadway.
Top Five Grossing Broadway Shows at DPAC
1. Wicked – April 2-April 16, 2010
2. Disney's The Lion King- January 4-30, 2011
3. Wicked – May 2-27, 2012
4. Radio City Christmas Spectacular starring the Rockettes- November 10-27, 2011
5. Jersey Boys- October 30, 2012-November 18, 2012
Top Five Grossing Concerts at DPAC
1. Neil Young- April 15, 2011
2. Celtic Woman- February 13, 2010
3. Steely Dan- August 4, 2011
4. Alabama- September 28, 2013
5. Steely Dan- June 9, 2009
Top Five Grossing Comedians at DPAC
1. Jerry Seinfeld – February 2, 2013
2. Daniel Tosh – April 11, 2012
3. Bill Cosby- January 21, 2012
4. Robin Williams- October 14, 2009
5. Bill Cosby- March 29, 2009
"When we presented our first show five and a half years ago, no one would have believed that DPAC could have attracted two million guests so quickly. More than anything, our thanks go out to the fans of superstar live entertainment that have been so supportive of everything we do. We opened with just one vision; to be the Triangles favorite place for live entertainment. This mission always starts with one-of-a-kind, live entertainment events. We follow that with what many call the 'DPAC Experience', a focus on the guest and the high value we place on quality and service. DPAC's guest experience is delivered with warmth, friendliness and an attention to detail that is the hallmark of our legendary red carpet customer service. Add it all together and you can see why fans of DPAC have helped place us among the top five theaters in national attendance rankings every year," said Bob Klaus, DPAC General Manager.
DPAC believes their two millionth guest will arrive sometime between 7:00 and 7:30 p.m. for the performance on Tuesday, May 13 of Joseph and the Amazing Technicolor Dreamcoat. DPAC staff will be waiting to greet the special guest and escort them to the Mildred and Dillard Teer Stage at DPAC where they will presented with a golden ticket, good for upgraded seats that evening as well as a $1,000 DPAC Ticket Center credit to use on any upcoming DPAC show of their choice throughout the next year.