Tue,

Aug

4
DPAC Celebrates Record-Breaking Seventh Season
448,998 guests and #2 ranking in the U.S.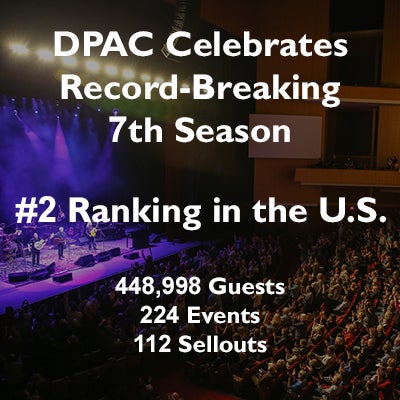 Durham, NC - August 4, 2015 - DPAC has just announced key event statistics for the venue's recently completed seventh season. Total attendance hit a new high mark of 448,998 guests, topping DPAC's last record of 421,000 set in the 2011 / 2012 season. The seventh season also set new records with total events (224 events), total sellouts (112 sellout performances) and number of season seat members (15,167) for the signature series, SunTrust Broadway at DPAC.
DPAC Places among Top Two Theaters in newest National Attendance Rankings
Unquestioned as the center for live entertainment in North Carolina, the combination of high profile Broadway, concert and comedy events has also gained DPAC attention on the national live entertainment scene with two of the nation's top entertainment trade magazines ranking DPAC among the most highly attended venues in the country. In their just published July 20th, mid-year edition, Pollstar Magazine lists DPAC as #2 in attendance among reporting theatre venues in America as did Venues Today in their July issue. Since opening, DPAC had been consistently listed among the top five U.S. theatres, but in these newest rankings covering the first six months of 2015, DPAC was topped only by the iconic Fox Theatre in Atlanta.
Pollstar National Attendance Rankings - Theaters: *(January 1-June 30, 2015)
Fox Theatre, Atlanta GA - 4,556 Capacity
DPAC, Durham, NC - 2,712 Capacity
Dreyfoos Hall, West Palm Beach, FL- 2,195 Capacity
Broward Ctr. Au-Rene Theater, 2,688 Capacity
Carol Morsani Hall, Tampa, FL – 2,610 Capacity
Heading the list of the highest attended shows were Wicked (24 performances at DPAC) and The Phantom of the Opera (16 performances at DPAC).
Top Five Shows - Broadway at DPAC 2014 / 2015 Season*
Wicked
The Phantom of the Opera
Kinky Boots
Newsies
Motown The Musical
*July 1, 2014 - June 30, 2015
In addition to Broadway blockbusters, DPAC presented 55 concerts, comedy and special events. Concert sellouts featured rock acts like Bob Dylan and John Mellencamp, legends Diana Ross and The Temptations and The Four Tops and Frankie Valli and The Four Seasons, jazz band singers Tony Bennett and Harry Connick Jr., R&B icons Erykah Badu and Maxwell, and country singer-songwriter Vince Gill. Plus comedy and special events also played a decisive role in DPAC's season with Dave Chappelle and John Oliver posting record-setting sellouts as well as special performances by David Sedaris and So You Think You Can Dance Tour.
Top Fifteen Concert Events - 2014 / 2015 Season*
Diana Ross
Bob Dylan
Erykah Badu
Tony Bennett
Maxwell
Frankie Valli and The Four Seasons
Harry Connick Jr.
Sarah McLachlan
John Mellencamp
Mannheim Steamroller
Vince Gill
The Temptations & The Four Tops
Susan Boyle
Isley Brothers
Chris Botti
*July 1, 2014 - June 30, 2015
Top Five Comedy Events 2014 / 2015 Season*
Dave Chappelle
John Oliver
Chris Tucker
Kids in the Hall
Nick Swardson
*July 1, 2014 - June 30, 2015
Top Five Special Events 2014 / 2015 Season*
David Sedaris
So You Think You Can Dance
Garrison Keillor
50 Shades!
Dancing Pros Live
*July 1, 2014 - June 30, 2015
Bob Klaus, General Manager of DPAC, stated, "At DPAC everything we do has the guest in mind and this philosophy has helped us forge a special connection with live entertainment fans since our opening in 2008. And in this past season, North Carolina audiences again helped us set new records. Our focus always starts with great shows and every year DPAC has one of the best Broadway, concert and comedy line-ups of any theater in America. The booking strength of Nederlander and PFM ensured that every big show had DPAC on its list when planning a major U.S. Tour. Add it all together with all of the great new hotels, restaurants and easy parking in Downtown Durham and you have a winning formula that has helped DPAC be ranked as one of the top theaters in the U.S. every year."
Emily McLoughlin, Marketing Director for Concerts and Comedy at DPAC, added, "While we are proud to be ranked among the top venues in the country, our team is even more honored to be named the best place in the Triangle for live entertainment as voted on by the readers and editors of five major regional publications. We've become as famous for the warm and welcome greetings we offer guests as we have for hosting superstar shows. On behalf of the DPAC staff, special thanks to each and every one of our fans for being part of the success of this record-breaking season."
Link to Videos: http://bit.ly/1415SeasonVideoRecap
Link to Photos: http://bit.ly/1415SeasonPhotoRecap