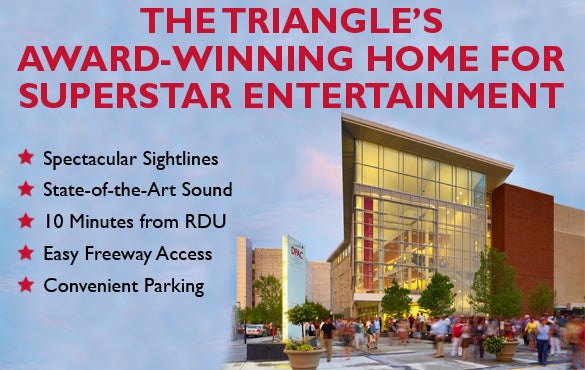 Wed,

Jan

11
DPAC Sets New Attendance Marks in 2011
DURHAM, NC- DPAC, Durham Performing Arts Center announced today its 2011 calendar year attendance statistics including 68 sellouts and a total attendance of 414,056. As tracked by the national entertainment industry magazine Pollstar, this attendance mark places DPAC as the #4 theater in America and in the same company as iconic venues Radio City Music Hall (#1), Coliseum Theater at Caesars Palace (#2), the Fox Theatre of Atlanta (#3) and New York's Beacon Theater (#5). DPAC also garnered another top honor in Venues Today Magazine as a top 5 facility under 5,000 capacity for 2011.
"Being anywhere in Pollstar's ranking of top ten theaters is an honor. The combination of dual blockbusters, Lion King and Radio City's Christmas Spectacular, in one calendar year definitely helped propel us from our #9 ranking in 2010 to #4 this season," said Rachel Gragg, Senior Director of Marketing.
2011 began at DPAC with an unbelievable 32 show run of Broadway Blockbuster Disney's The Lion King, welcoming almost 82,000 Broadway fans to DPAC during the month of January. Another 2011 highlight was the 38 show run of the Radio City Christmas Spectacular which drew over 75,000 making it the biggest holiday show ever in the Triangle. Throughout the year the sellouts continued with music legends like Neil Young and Diana Ross and comedy icons Jerry Seinfeld and Martin Lawrence being standout events among the total of 209 ticketed events. December alone saw six sellouts including the 'QDR Country for the Kids' concert featuring Scotty McCreery, Ira David Wood's A Christmas Carol (2 sellouts), Paul Simon, Daryl Hall and John Oates, and Kenny G.
"We knew this region would respond to a high level of customer service and a wide variety of excellent programming. It's hard for us to say we ever anticipated reaching a top-five national attendance ranking, but it's a nice reward for everyone that worked so hard to bring this theater from a vision to reality. For DPAC, the formula is simple--treat our guests with red carpet customer service, and they will come back again and again. DPAC has become famous for presenting audiences with world class performances in an amazing setting that features the best sound and sightlines of any performance venue in the region. The Triangle loves great live entertainment, and we're so appreciative of the audiences that have helped us set these attendance records. It's a team effort on so many fronts--from the National booking offices at Nederlander and PFM, to the part-time staff person that welcomes our guests at the front doors," said Bob Klaus, GM of DPAC.
2011 also saw DPAC welcome their one-millionth patron, a mark accomplished in less than three years since DPAC's opening in November of 2008. On Thanksgiving weekend during Radio City Christmas Spectacular, two special guests were greeted with an impressive welcome from two Rockettes who presented the winning couple the DPAC Golden Ticket--a prize pack worth over $1,000 of SunTrust Broadway season tickets including Wicked, Memphis, West Side Story and more.

Top 15 Grossing Concert/Comedy Events at DPAC 2011:
1. Neil Young
2. Steely Dan
3. Paul Simon
4. Diana Ross
5. John Mellencamp
6. Earth, Wind and Fire
7. Dolly Parton
8. Jerry Seinfeld (9:30PM)
9. Jerry Seinfeld (7:00PM)
10. Steve Martin
11. Martin Lawrence
12. Carol Burnett
13. Daryl Hall and John Oates
14. Erykah Badu
15. B.B. King
Top Three SunTrust Broadway at DPAC (Theatrical events) of 2011:
1. Disney's The Lion King
2. Radio City Christmas Spectacular starring The Rockettes
3. Blue Man Group

What's up next? 1970s Philly soul greats The O'Jays scheduled for January 15, followed by Bill Cosby (Jan 21 at 5 & 8 pm), Tony™ award-winning musical Memphis (January 24-29) and then Kelly Clarkson (Jan 31)). Please visit www.dpacnc.com for more information about these and all upcoming events.