Tue,

Oct

19
DPAC Celebrates More Milestones
10.19.10- Durham Performing Arts Center Celebrates its Top National Ranking and Welcomes 500,000th Patron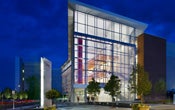 DURHAM, NC- DPAC, Durham Performing Arts Center reaches two milestones this month. DPAC has garnered yet another top honor in Pollstar magazine. Based on 2010 third quarter ticket sales, DPAC is currently ranked #12 in the top 100 Worldwide Theatres Venues. DPAC is also expected to welcome their 500,000 patron during opening night of Elton John's Billy Elliot.
"We knew this region would respond to a high level of customer service and excellent programming. It's hard for us to say we anticipated reaching a top fifteen ranking so quickly, but it's a nice reward for everyone that worked so hard to bring this theater from a vision to reality. For DPAC, the formula is simple- treat people great and they will come back again and again. Give audiences a world class performance venue and a variety of amazing acts and they will want more. This Triangle loves great live entertainment; all you need is top notch talent- from the staff to the performers- and the desire to make sure everyone feels welcome and appreciated. It's a team effort on so many fronts from the National booking offices at Nederlander and PFM to the part-time staff person that welcome's our guests at the front doors" said Bob Klaus, GM of DPAC.
DPAC has once again garnered top honors from Pollstar magazine and is ranked #12 in Worldwide Theatre Venues; last year they were ranked #46. This is no small accomplishment for the venue as they are in the second year of operation. Their consistent brand of extraordinary customer service and world class entertainment continues to make DPAC shine. DPAC is proud to be in the same company as such iconic venues as the Fox Theatres (#2 Atlanta & #8 Detroit), Nokia Theatre L.A. Live (#7 LA) and Radio City Music Hall (#3 NY).
The 500,000th patron is expected to enter DPAC for opening night of the smash hit Elton John's Billy Elliot The Musical on Saturday, October 30th between 1:00 and 2:00pm. DPAC staff will be waiting to welcome one lucky guest to an evening they will not soon forget, culminating with the prized Golden Ticket- a prize package that includes season tickets to all remaining SunTrust Broadway Series shows. Including The New Mel Brooks Musical Young Frankenstein (Dec 7-12) and the highly anticipated landmark event Disney's The Lion King (Jan 4-30).
What's up next? Elton John's current megahit Billy Elliot The Musical is scheduled to run from Oct 30 – Nov 14, followed by Celtic Thunder (Nov 17) and Joe Bonamassa (Nov 20). Please visit www.dpacnc.com for more information about these and all upcoming events.