Fri,

Feb

19
DPAC Continues String of Sellout Events
2.19.10- DPAC Continues String of Sellout Events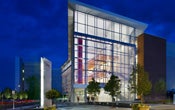 DURHAM, NC- In one week DPAC, the new Durham Performing Arts Center played host to four very diverse performances- Steve Winwood, Maze featuring Frankie Beverly, Celtic Woman and Harry Connick, Jr. This variety of entertainment choices has come to define what DPAC is all about- there's something for everyone!
"Last week was another example of the tremendous diversity that DPAC has to offer," Said GM Bob Klaus. "We really have something for everyone and are becoming known throughout the region for great live entertainment experiences. There's a magic and energy that is created when this theater and these superstars and their fans come together. It's the great experiences in life that we remember forever."
Once iconic rocker Steve Winwood took the stage last Tuesday DPAC fans knew they were in for a memorable night. 96rock's Bob the Blade and Foster introduced Winwood who opened to an exuberant crowd. He set the tone early opening with "I'm a Man" followed by "Dear Mr. Fantasy". He received a standing ovation just three songs into his set for "Can't Find My Way Home". Winwood's voice was pitch perfect and his fans were grateful for the memories.
R&B fans were in for a treat on Friday night as legendary performer and the nicest guy in the industry Maze featuring Frankie Beverly took the stage. Foxy's Cy Young played mc for the evening in which a sold out crowd was treated to 2+ hours of pure entertainment. The audience came to hear their beloved Frankie Beverly and he did not disappoint. For over thirty years fans have loved Frankie and it is plain to see that he loves them back. Few bands have such a loyal following.
Saturday continued with two sold out performances by Celtic Woman with their 6 piece band and the Aontas Choir. This family friendly show featured unique renditions of Irish standards, classical favorites and contemporary hits. Fans were serenaded in and out of the venue by traditional bagpipes.
Mardi Gras was celebrated in style on Fat Tuesday as New Orleans troubadour Harry Connick, Jr. and his Orchestra played to a sold out house. Fans were treated to two hours of arrangements from big band favorites to New Orleans jazzy-blues numbers. Durham's favorite saxophonist and long time friend of Connick, Branford Marsalis, joined him along with masterful trombonist Lucien Barbarin for several numbers bringing the crowd to their feet. Connick's snappy repartee with the audience and impromptu jam session with Marsalis was well worth the price of admission.
What's up next? DPAC's upcoming events for February- The Broadway smash hit Hairspray (Feb 24). For more information about upcoming DPAC events, please go to www.dpacnc.com.

####