Mon,

Apr

5
DPAC DOES IT AGAIN
4.5.2010- DPAC DOES IT AGAIN: DPAC Hosts Three More Sellout Events in March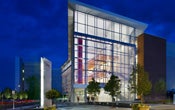 FOR IMMEDIATE RELEASE
DURHAM, NC - DPAC, the new Durham Performing Arts Center, hosts three more sellout events in March bringing the total to 48 since opening.
"March spoke volumes about DPAC making a strong statement for world class entertainment," said GM Bob Klaus. "We are proud to present such renowned and diverse artists- and for being the exclusive venue of choice for many hot national tours. And as each new fan enters the DPAC and has an amazing experience we know that we have created a fan for life."
March did come in like a lion on March 12th as tough all over country star Gary Allan played to a suitably rambunctious near capacity crowd. From the moment local radio darling WQDR's Lisa McKay introduced the band fans were on their feet showing their appreciation for the critically acclaimed Allan. Allan was equally appreciative in his stellar performance. Of course, it's not easy to open for someone like Allan but up and coming locals The Jason Marks Band really proved that they have cut their teeth in the music industry and are someone to be reckoned with, playing cuts from their new album "Slow-Down".
Next up was veteran rockers the Moody Blues on March 24th. Taking fans back to the far reaching memories of days gone by and introduced to the stage by Brian Freeman from WPTF, the band came out as eager to play as their fans were to receive them. The Moody Blues played to a packed house and when they played "Tuesday Afternoon" fans took the opportunity to sing along and smile.
On March 27th DPAC hosted the record making alt rockers Wilco, one of 30 shows on their US tour. Performing to a packed house frontman Jeff Tweedy had fans jumping as they played a stunning set for close to 3 hours. Fans sang along to much of the set and left exhausted from a time well had.

March did not go out quietly - the final leg of a 20 night national tour, Experience Hendrix took the DPAC stage on March 28th. Jimi Hendrix's sister mc'd the event introducing guitar superstars including Billy Cox of The Jimi Hendrix Experience and Band Of Gypsys, Joe Satriani, Sacred Steel featuring Robert Randolph, Jonny Lang, Eric Johnson, Kenny Wayne Shepherd, Ernie Isley, Brad Whitford of Aerosmith, Living Colour, and Chris Layton of Stevie Ray Vaughan & Double Trouble. For over three hours, these rock icons paid homage to the unparalleled Hendrix as they shared personal stories and inspirations. In the audience fathers shared with their sons the legend that was Hendrix.
What's up next? DPAC's next events are sure to please the most discerning fans with singer, songwriter David Gray (April 9), followed by the much anticipated Broadway smash hit Wicked (April 21 – May 16). For more information about upcoming DPAC events, please go to www.dpacnc.com.

####