Thu,

Oct

21
DPAC, DURHAM PERFORMING ARTS CENTER, THE CAROLINA THEATRE AND THE NORTH CAROLINA SYMPHONY TEAM UP TO PRESENT A SPECIAL ORCHESTRAL PERFORMANCE WITH CHRIS BOTTI
10.21.10- DPAC, The Carolina Theatre, and The North Carolina Symphony Team Up To Present A Special Orchestral Performance with Chris Botti.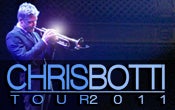 DPAC, DURHAM PERFORMING ARTS CENTER, THE CAROLINA THEATRE AND THE NORTH CAROLINA SYMPHONY TEAM UP TO PRESENT A SPECIAL ORCHESTRAL PERFORMANCE WITH CHRIS BOTTI
DURHAM, NC- Three of the Triangle's premier arts organizations, DPAC, the Carolina Theatre and the North Carolina Symphony have come together to bring trumpeter Chris Botti back to Durham for a unique performance with the North Carolina Symphony at DPAC on May 17, 2011.
This collaboration marks the first time that the three organizations have worked together to present an event. Botti has built a significant following in the Triangle, performing four times at the Carolina Theatre since 2006.
"Chris Botti is one of the Carolina Theatre's signature artists and partnering with DPAC and the North Carolina Symphony presents his music in a new and exciting way. It demonstrates what can be achieved when arts organizations work together to give audiences an unforgettable experience," said Bob Nocek, President/CEO, The Carolina Theatre of Durham, Inc.
"It's an exciting new era for Durham and we're thrilled to be working with Bob Nocek and the Carolina Theater in bringing to fresh and exciting events to the region. This event is also the next step in finding very special performances in which DPAC teams up with the North Carolina Symphony with this new collaboration building on the NC Symphony's 2008 appearance at DPAC with Jim Brickman," said Bob Klaus, GM of DPAC.
"We're excited for the opportunity to work with Chris Botti, who has captured the imagination of so many music lovers the world over, as well as to partner with two great institutions in Durham," said Scott Freck, Vice President for Artistic Operations & General Manager, North Carolina Symphony. "We're sure the concert will be a memorable one for all!"
Tickets start at $38.00 plus service charges. Tickets for DPAC season ticket holders, Carolina Theatre Star Members and NC Symphony season ticket holders go on sale Tuesday, November 9. Friends of DPAC members and Carolina Theatre Efan members may place their orders on Wednesday, November 10. Tickets for the general public go on sale Friday, November 12 at 10am, through Ticketmaster outlets including Crabtree Valley Mall, and Lowes Foods, online at dpacnc.com and through the DPAC Call Center (919.680.2787).
Since the release of his 2004 critically acclaimed CD When I Fall In Love, Chris Botti has become the largest selling American jazz instrumental artist. His success has crossed over to audiences usually reserved for pop music and his ongoing association with PBS has led to four #1 Jazz Albums, as well as multiple Gold, Platinum & Grammy Awards.
Over the past three decades, he has recorded and performed with the best in music; including Frank Sinatra, Sting, Josh Groban, Michael Buble, Paul Simon, Joni Mitchell, John Mayer, Andrea Bocelli, Joshua Bell and Aerosmith's own Steven Tyler.
Hitting the road over 250 days per year, Chris and his incredible band have performed with many of the finest symphonies, at some of the world's most prestigious venues, including performances at the World Series and Nobel Peace Prize Ceremony. People Magazine voted Chris one of the 50 Most Beautiful People in 2004. Please visit www.chrisbotti.com for further information.

"Chris Botti is a master artist, performer and collaborator; he has worked closely with some of the world's greatest musicians- drawing from such diverse genres including pop, jazz, and classical music. It is only fitting that three arts organizations collaborate on this very special performance. His performance with the North Carolina Symphony will no doubt capture his warmth, excitement, and spontaneity all among the perfect backdrop of DPAC," said Linda Charlton, Director of Marketing at...