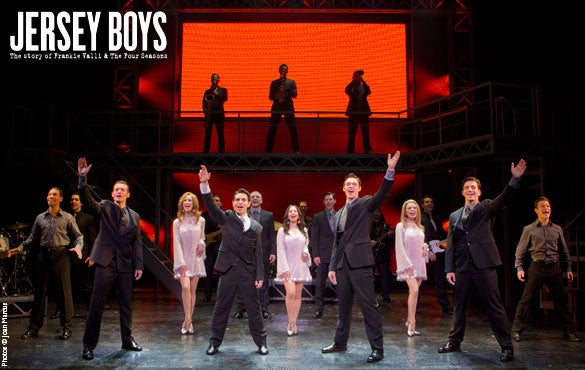 Mon,

July

15
DPAC's Fifth Season Sets New Records with # of Concerts, Comedy, Special Events and Season Ticket Holders
371,678 Guests, 187 performances, 50 sellouts in 2012 / 2013 Season
DPAC, Durham Performing Arts Center has just announced key attendance statistics for their just completed fifth season. The fifth season boasts new records with 65 concerts, comedy, and special events and 11,200 season ticket holders for their signature series, SunTrust Broadway at DPAC. DPAC's 2012 / 2013 Season featured 187 performances which drew 371,678 guests and saw 50 total sellouts. This 2012 / 2013 attendance mark was DPAC second highest ever and 12% better than DPAC's average annual attendance since opening in 2008. Heading the list of the highest attended shows were Jersey Boys (24 performances at DPAC) and Mary Poppins (8 performances at DPAC). DPAC begins the 2013-2014 SunTrust Broadway season as one of the top Broadway series in the country, with season ticket sales now at 12,700 and still growing.
Top Five Shows -
SunTrust Broadway at DPAC 2012 / 2013 Season*
1. Jersey Boys
2. Mary Poppins
3. War Horse
4. Sister Act
5. Anything Goes
*July 1, 2012 - June 30, 2013
In addition to Broadway blockbusters, DPAC delivered a record high 65 concerts, comedy and special events. Concert sellouts featured Rock acts like Duran Duran and Crosby, Stills and Nash, legends Tony Bennett and B.B. King, blues rocker superstar Bonnie Raitt, renowned jazz artist like Diana Krall, a long list of R & B icons including Al Green, Smokey Robinson and Gladys Knight and even a holiday favorite with Mannheim Steamroller. Plus Comedy and special events also played a decisive role in DPAC's season with Jon Stewart and Jerry Seinfeld posting record setting sellouts as well as special performances by Alton Brown and Theresa Caputo.
Top Fifteen Concert Events - 2012 / 2013 Season*
1. Tony Bennett
2. Duran Duran
3. Crosby, Stills and Nash
4. Diana Krall
5. Gladys Knight
6. Il Divo
7. Kings of the Mic: Featuring LL Cool J, Ice Cube, Public Enemy, De La Soul
8. Al Green
9. Hall and Oates
10. Smokey Robinson
11. B.B. King
12. Jackson Browne
13. NAS with DMX
14. Mannheim Steamroller
15. Bonnie Raitt
*July 1, 2012 - June 30, 2013

Top Five
Comedy Events
2012 / 2013 Season*
1. Jerry Seinfeld
2. Robin Williams
3. Bill Engval/Larry the Cable Guy
4. Jon Stewart
5. Carol Burnett
*July 1, 2012 - June 30, 2013

Top Five
Special Events
2012 / 2013 Season*
1. A Christmas Carol
2. Celtic Woman
3. Carolina Ballet's The Nutcracker
4. So You Think You Can Dance
5. Theresa Caputo

*July 1, 2012 - June 30, 2013

"If anyone still doubted the staying power of DPAC, our fifth season should put those thoughts to rest," said Bob Klaus, DPAC's General Manager. "More than ever fans are telling us that DPAC is their favorite place for live entertainment. Based on over 30,000 guest surveys this past season, 99% of DPAC guests would be likely to recommend DPAC (84% - Extremely likely, 15% - Very likely). It's the strength of our guest experience and truly great shows that create this unbeatable affinity from Broadway, concert and comedy fans in the region."

National Attendance Rankings
Unquestioned as the center for live entertainment in the Triangle, the combination of high profile Broadway, concert and comedy events has also gained DPAC attention on the national live entertainment scene with two of the nation's top entertainment trade magazines naming DPAC among the most highly attended venues in the country. In their just published July 12th, mid-year edition, Pollstar Magazine lists DPAC as #3 in ticket sales among reporting theatre venues in America. In previous rankings, DPAC had been among the top five listed U.S. theatres, but in this newest ranking covering the first six months of 2013, DPAC was topped only by the iconic Fox Theatre in Atlanta, and the Coliseum at Caesars Palace Las Vegas.

Pollstar National Attendance Rankings - Theaters: *(January 1-June 30, 2013)
1. Caesars Palace, Las Vegas, NV - 4,100 Capacity - 309,798
2. Fox Theater, Atlanta GA - 4,556 Capacity - 198,552
3. DPAC, Durham, NC - 2,712 Capacity – 173,558
4. Broward Center, Ft. Lauderdale, FL Capacity- 2,700- 163,252dpa
5. Dreyfoos Hall, West Palm Beach, FL- 2,195 Capacity- 153,876

Local and National Awards
DPAC's accolades also run well beyond just attendance statistics. This past season saw the venue win a number of local Reader's Choice Awards.
• The Independent Weekly's "Best of" winner for Best Theater Venue - 5th Consecutive Year
• The Herald Sun's Reader's Choice Award for Best Live Entertainment - 5th Consecutive Year
Separate from these local publication awards, DPAC also recently received its second consecutive Certificate of Excellence ranking from Trip Advisor, the world's largest travel and destination website.
Rachel Gragg, Senior Director of Marketing at DPAC, stated, "We're always very proud of the number of guests that have walked through the door since opening almost five years ago and are so humble to be recognized for these awards again this year. In fact, DPAC staff is all big fans ourselves of the numerous performances of Broadway, comedy and concerts that take the stage night after night. Each day is a new challenge that our team thrives in being a part of."