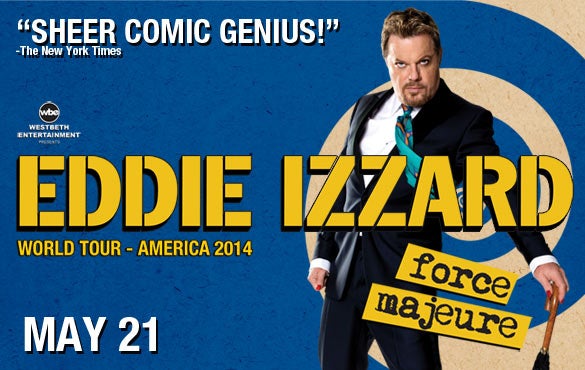 Mon,

Jan

27
EDDIE IZZARD: FORCE MAJEURE WORLD TOUR Coming to DPAC on May 21
January 27, 2014 (Durham, NC) – Eddie Izzard will bring his massive Force Majeure world tour to the U.S., visiting 32 cities through the spring with more dates to be announced later this year. The tour stops at DPAC, Durham Performing Arts Center, on May 21, 2014.
Tickets go on sale Tuesday, February 4 at 10 a.m.:
• Online at DPACnc.com
• DPAC Ticket Center: 919.680.2787, 123 Vivian Street, Durham, NC
• Ticketmaster.com / Ticketmaster Charge by phone at 800.745.3000
Force Majeure is the most extensive comedy tour ever; launched in March of 2013, the tour will take Izzard to 25 countries on five continents. From Cardiff to Kathmandu and Moscow to Mumbai, Force Majeure will play throughout Europe, Africa, Russia, the U.K., Canada, the U.S., India, Nepal, The Far East and Australia. Izzard recently completed runs in France performing entirely in French and in Berlin performing entirely in German.
One of the most acclaimed comedians of his generation, Izzard's unique, tangential, absurd, and surreal comic narratives are lauded for their creativity and wit, earning him a New York Drama Desk Award and two Emmys for Dress to Kill, two British Comedy Awards for Top Stand-Up Comedian, and an Olivier Award nomination for Outstanding Achievement.
In the U.S., Izzard is the first solo stand-up comedian to perform at the Hollywood Bowl, has sold-out three consecutive nights at Radio City Music Hall and toured arenas throughout the U.S. including a sold-out show at Madison Square Garden.
On TV, Izzard most recently guest starred in the series, Hannibal, on NBC. He starred in and served as a producer on the critically acclaimed FX Network Show, The Riches, opposite Minnie Driver, guest starred in the final season of Showtime's United States of Tara, and his 2010 documentary, Believe: The Eddie Izzard Story, received an Emmy nomination.
His long list of film and stage credits includes Valkyrie opposite Tom Cruise, Steven Soderbergh's Ocean's Thirteen and Ocean's Twelve opposite George Clooney and Brad Pitt, David Mamet's Race and The Cryptogram, the title role in Marlowe's Edward II, and A Day in the Death of Joe Egg in London and on Broadway which won him a handful of awards, including a Tony nomination for Best Actor.

WESTBETH ENTERTAINMENT is a producing organization that has successfully and consistently produced critically acclaimed, financially successful, groundbreaking entertainment for 30 years. WestBeth has produced, presented, and managed diverse productions and tours that have played such venues as Madison Square Garden, Broadway, Radio City Music Hall, the Hollywood Bowl, Toronto's Massey Hall, the San Francisco's the Curran Theatre, Chicago's United Center Arena and the Chicago Theatre, and many music and performing arts centers around North America.WestBeth is currently producing La Soirée in New York City and an upcoming Australian tour of Puppet Up! – Uncensored.
Recent productions include the Canadian tour of Eddie Izzard's Force Majeure, and Dylan Moran's Yeah, Yeah in cities across the US and Canada. WestBeth also produced the 6 week off-Broadway run of South African comedian Trevor Noah's Born a Crime; Eric Idle's What About Dick at the Orpheum Theatre in Los Angeles; and the national tour, Off-Broadway, and 2013 Edinburgh Fringe Festival runs of Puppet Up! – Uncensored (aka Stuffed & Unstrung) with The Jim Henson Company.
Other notable productions include John Leguizamo's Ghetto Klown on Broadway, the West End, and Colombia, South America; British comedian Simon Amstell's one man show NUMB in New York and other cities around the county; Billy Connolly's tour The Man Live in New York and San Francisco; Eddie Izzard's Dress To Kill, Circle, Sexie, Stripped—a 35 city US tour and tour of Canada, Stripped Too: US Arena tour, Stripped to the Bowl, Stripped to the Shore; Billy Connolly's Too Old To Die Young tour in America and Canada; Lewis Black's Nothing Sacred show at New York's Lincoln Center and Carnegie Hall, as well as Lewis' Dual Citizenship Tour in Canada and 'In God We Rust' at City Center in New York.