Sat,

Jan

9
Experience Hendrix Comes to DPAC Sunday, March 28, 2010.
Experience Hendrix Comes to DPAC Sunday, March 28, 2010.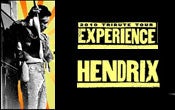 FOR IMMEIDIATE RELEASE
EXPERIENCE HENDRIX AT DPAC
CELEBRATE THE MUSIC AND THE LEGACY OF JIMI HENDRIX
Sunday, March 28, 2010
The Concert Event of the Year!
DURHAM, NC- January 8, 2010- Experience Hendrix, fourth edition, biennial concert tour featuring an all-star line up of music greats paying homage to the music and legacy of Jimi Hendrix launches March 2010 with special performances across the country including DPAC, Durham Performing Arts Center on Sunday, March 28, 2010.
Tickets go on sale Saturday, January 16th at 10am and can be purchased at the DPAC Ticket Center, 919.680.2787, and online at DPACnc.com. Tickets are also available through Ticketmaster outlets: FYE and Lowes Foods.
"The competition among America's best theaters was fierce for dates on this very special and limited tour," said Bob Klaus, GM DPAC. "We're thrilled that DPAC was once again selected to host what we think is a unique and one of a kind live entertainment experience."
Today, Jimi Hendrix's status as a cultural icon stands undiminished. His popularity and continuing influence on popular culture more than three decades after his untimely death in 1970 is remarkable. Hendrix's appeal has been tapped repeatedly by Hollywood with inclusion in the soundtracks to popular films like Cars and Black Hawk Down, to hit TV series such as American Idol and Entourage, and to chart-topping videogame series Guitar Hero and Gran Turismo. Meanwhile contemporary artists such as Outkast and Lenny Kravitz have not only been clearly influenced by Jimi's music, they have revived his fashion style, while genre-crossing artists such as Nigel Kennedy, one of Classical music's best selling artists, has interpreted Hendrix's songs in that realm. Regardless of the venue or musical genre, Jimi's music is routinely heard; live on stage, from a wide variety of touring musicians including the likes of Red Hot Chili Peppers, John Mayer, Los Lobos, Sting and Ben Harper.

Featured artists who will be performing music written and inspired by Jimi Hendrix at DPAC. Include some of the best known and most respected artists in contemporary rock and blues including Billy Cox, Joe Satriani, Sacred Steel featuring Robert Randolph, Jonny Lang, Eric Johnson, Kenny Wayne Shepherd, Ernie Isley, Brad Whitford (of Aerosmith), Doyle Bramhall II, Living Colour, and Double Trouble's Chris Layton.
Cox first befriended Hendrix when the two were in the 101st Airborne division of the US Army. Cox played in both the Jimi Hendrix Experience and Band of Gypsys and performed with Hendrix at such landmark festivals as Woodstock and the Isle of Wight. Cox commented, "It's a thrill for me to play Jimi's music for audiences now as it was in the 1960s. The Experience Hendrix tours have shown how timeless this music really is." Joe Satriani remarked, "I finally get to pay tribute to my hero the right way, on stage with an amazing, once in a lifetime line up of musicians!"

Various combinations of these music greats will be performing Jimi's signature songs including "Purple Haze," "Voodoo Child (Slight Return), "The Wind Cries Mary," "Little Wing" and "Red House." As has been the case with previous Experience Hendrix tour incarnations, special guests are expected to sit in at many of the dates making the concerts all that much more memorable for both new and veteran Hendrix fans. Past special guests have included Paul Rodgers, Buddy Guy and Carlos Santana.
Kenny Wayne Shepherd, a veteran of several Experience Hendrix tours remarked "Jimi Hendrix's music has really inspired to push the limits of my own music. He didn't observe any boundaries musically. He was an amazing player and a tremendous showman so I in...