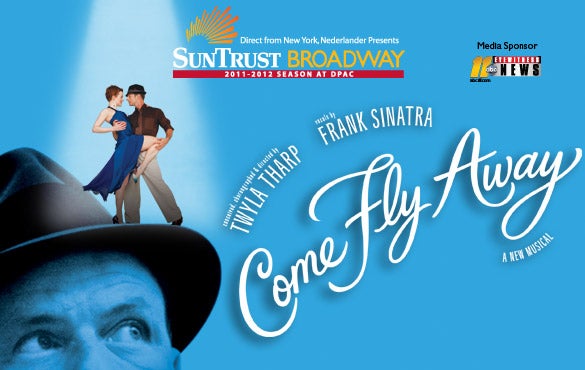 Mon,

Sep

19
Find Frank's Fedoras and win a prize pack to Come Fly Away coming Septemeber 27 - October 2.
Frank's Fedora Lost in Downtown Durham: DPAC will host a lunch-hour challenge in conjunction with Come Fly Away to find fedoras hidden throughout Downtown Durham.

Durham, NC. – September 27, 2011 – A prize pack including 4 tickets, parking, food and drink vouchers, gift cards, a cast party invitation, and ofcourse exclusive Sinatra-endorsed fedoras made by hat maker Dorfman-Pacific will be awarded on Friday September 30th to the first team that is able to solve the clues and find Frank's fedoras hidden throughout the Tobacco District and surrounding area of Downtown Durham.
The scavenger hunt will involve four stops all within walking distance of the Durham Performing Arts Center, located at 123 Vivian Street, Durham, NC 27701. The event will begin at the DPAC Box office with check-in at 11:45 A.M. and challenge beginning at 12 P.M. Teams will head out from the DPAC and fight the clock to solve the clues that lead to each fedora. All participating teams will receive a special ticket offer to purchase tickets for Come Fly Away at DPAC, as well as a special lunch offer for a participating Downtown Durham Restaurant.
The event will be limited to the first eight teams to register. Teams can register by sending their information to [email protected] Entrees must be 18 years or older to participate. Teams can consist of 2 or more participants.
Come Fly Away, a new Broadway musical conceived, choreographed, and directed by Tony Award-winner Twyla Tharp and by special arrangement with the Frank Sinatra Family and Frank Sinatra Enterprises, will open at DPAC tonight, Tuesday, September 27, 2011. Come Fly Away follows four couples as they fall in and out of love during one song and dance filled evening at a crowded nightclub. Blending the legendary vocals of Frank Sinatra with a live on-stage big band and 14 of the world's finest dancers, Come Fly Away weaves an unparalleled hit parade of classics, including "Fly Me To The Moon," "My Way," and "That's Life," into a soaring musical fantasy of romance and seduction. Charles Isherwood of The New York Times calls Come Fly Away , "SPECTACULAR and DAZZLING! The show's score combines classic and newly discovered vocal performances from the Sinatra archives, along with Sinatra's signature arrangements by Nelson Riddle, Billy May and Quincy Jones, among others, and brand new charts, for this fresh innovative musical.
For best seats to Come Fly Away, call or go online today. Tickets start at $11 and can be purchased:
• Online at DPACnc.com
• DPAC Ticket Center: 919.680.2787, 123 Vivian Street, Durham, NC
• Ticketmaster.com / Ticketmaster Charge by phone at 800.745.3000
About Durham Performing Arts Center
The DPAC is a 2,700 capacity multi-use theatre that features the hottest Broadway and family shows, high-profile concerts and incredible special events. Listed four times in the top 50 in Pollstar magazine's Top Theater Venues, and currently ranked #9 in US Theaters. DPAC has become a beacon of energy in the Triangle and the region's new home for world-class live entertainment. Operated under the direction of Nederlander and PFM, DPAC is also home of the SunTrust Broadway Series with over 10,000 season ticket holders and show stopping Broadway engagements of Blue Man Group, In The Heights and much, much more. For more information please go to www.DPACnc.com.
#####