Fri,

Oct

22
Finding Billy Elliot: The Journey to Become the Famous Boy
10.22.10-Finding Billy Elliot: The Journey to Become the Famous Boy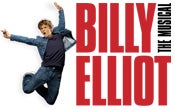 When the winner of the 2009 Tony Award for Best Actor in a Musical was announced, the moment proved to be as joyful and exhilarating as it was historic. For the first time ever, the Tony Award was given to a trio of actors sharing the same role. And the three recipients happened to be teenagers making their Broadway debuts. David Alvarez, Trent Kowalik and Kiril Kulish played the lead in Billy Elliot the Musical at alternating performances, and each displayed a dizzying array of abilities in portraying a boy who defies the wishes of his father and the ridicule of his community to pursue his ballet studies.

Kulish ended their delightful acceptance speech with a message: "We want to say to all the kids out there who might want to dance, 'Never give up.'"
That credo happens to be one of the themes of the Tony Award-winning show, written by Elton John and Lee Hall. It's a principle that the creative team imparts not just to all the boys who are cast as Billy, but to every adolescent who auditions for the role.
And those words resonate with casting director Nora Brennan and her "Team Billy," who hold auditions across North America in order to identify youngsters with the skills and potential to take on the role. Those boys are later seen by director Stephen Daldry, choreographer Peter Darling, and others, who work intensively with each boy on every aspect of the show and ultimately decide who will play Billy.

Brennan describes her job as "part detective work, part casting. We receive recommendations and follow leads everywhere. There is no set formula for how we find each boy."
Those who don't have the means or access to travel to an audition are invited to submit a video.
"There are some kids in small towns who can't get to our auditions. We want to make sure that any boy who wants to be seen can be seen. So we've set up a website, www.bebilly.com, where any boy can send in footage taken at his dance studio."

The demands of the role are staggering: Daldry likens playing Billy to "playing Hamlet while running a marathon." Not only is the character onstage for the better part of three hours, he also sings, acts, speaks in Northern English accent, does gymnastics, and dances in a variety of styles, including tap, hip hop, and, of course, ballet.
"It is an extraordinary burden to put on such little shoulders," says Daldry, who won the Tony Award for his direction of Billy Elliot, and is a three-time Oscar nominee. "Never before has anything been asked of a child to this degree in the theater."

Finding boys with the requisite aptitude for the role is a monumental undertaking. When casting the original Broadway company, Brennan and Team Billy traveled to seven cities over a period of eight months. They auditioned more than 2,000 boys; of those, 15 were invited to come to New York to take part in a 10-day intensive workshop led by the creative team. Eventually Alvarez, Kowalik, and Kulish were chosen.
Brennan tries to create a nurturing environment at the auditions, so that every boy has a positive experience.
"I always tell the boys, 'No matter what happens, you'll have a lot of fun,'" she says. "'No matter what skills you come in with, you're going to learn something you don't know. And you'll be with other boys who love to dance.' For many of them, that's a first, because they're often the only boy in their dance school. Some of them have never seen other boys dance before. And they come into a room with other ballet dancers, or Irish step dancers, or street dancers, and they come away going, 'Wow, I want to learn that.' We try throughout the day to inspire them."
It can take more than two years ...