Fri,

June

3
FRANK SINATRA'S COME FLY AWAY AT DPAC
6.6.11- The New Broadway Musical Come Fly Away Featuring Sinatra's Legendary Tunes Goes On Sale Friday, June 10th at 10am.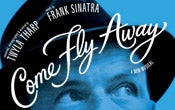 FROM THE VISIONARY CREATOR OF THE TONY AWARD-WINNING MOVIN' OUT COMES THE NEW BROADWAY MUSICAL COME FLY AWAY
Conceived, Choreographed and Directed by TWYLA THARP
Vocals by FRANK SINATRA
(Durham, NC)- The new Broadway musical, COME FLY AWAY, conceived, choreographed, and directed by Tony Award-winner Twyla Tharp and featuring vocals by Frank Sinatra, will open at DPAC, Durham Performing Arts Center on September 27, 2011 and play for one week only. Tickets go on sale Friday, June 10th at 10am.

COME FLY AWAY follows four couples as they fall in and out of love during one song and dance filled evening at a crowded nightclub. Blending the legendary vocals of Frank Sinatra with a live on-stage big band and 14 of the world's finest dancers, COME FLY AWAY weaves an unparalleled hit parade of classics, including "Fly Me To The Moon," "My Way," and "That's Life," into a soaring musical fantasy of romance and seduction.

Charles Isherwood of The New York Times calls COME FLY AWAY, "SPECTACULAR and DAZZLING! This is a MAJOR new work, with a stage full of BRILLIANT performers. Twyla Tharp's ELECTRIFYING celebration of the music of Frank Sinatra will sweep you up in a complete spell." Linda Winer of Newsday calls the show "A DANGEROUSLY GORGEOUS DANCE ADVENTURE," while Michael Kuchwara of the Associated Press calls the show "ASTONISHING -- A love letter to romance, not to mention the man and his music, with eight MARVELOUS leads and an orchestra of STERLING musicians." And Richard Zoglin of Time Magazine states simply, "COME FLY AWAY delivers the PUREST JOLT OF PLEASURE to be found on a Broadway stage."
The show's score combines classic and newly discovered vocal performances from the Sinatra archives, along with signature arrangements (Nelson Riddle, Billy May, Quincy Jones) and brand new charts, for this fresh innovative musical.
COME FLY AWAY is the next and most elaborate chapter in one of the most fruitful collaborations in contemporary dance. Twyla Tharp's creative relationship with the music of Frank Sinatra began in 1976 with the premiere of Once More Frank, a duet created for the American Ballet Theatre, performed by Ms. Tharp and Mikhail Baryshnikov. The collaboration continued with Nine Sinatra Songs, Ms. Tharp's acclaimed piece for fourteen dancers, which had its world premiere with Twyla Tharp Dance in 1982, and was followed by Sinatra Suite, a duet featuring Mr. Baryshnikov and Elaine Kudo, which had its world premiere in 1984 with American Ballet Theatre at the Kennedy Center. Mr. Sinatra requested that Sinatra Suite be performed when he received his Kennedy Center Honors Award, citing it as one of the purest expressions of his body of work.
COME FLY AWAY features scenic design by James Youmans, costume design by Katherine Roth, lighting design by Donald Holder, and sound design by Peter McBoyle. Additional arrangements and orchestrations are by Dave Pierce and Don Sebesky.
BIOGRAPHY
One of the most accomplished and versatile artists working today, TWYLA THARP has created groundbreaking work in ballet, modern dance and on Broadway, in addition to her successes in film and television. She is also the author of three books. Since graduating from Barnard College in 1963, Ms. Tharp has choreographed more than 135 dances, five Hollywood movies and directed and choreographed four Broadway shows. She received one Tony Award, two Emmy Awards, 19 honorary doctorates, the Vietnam Veterans of America President's Award, the 2004 National Medal of the Arts, the 2008 Jerome Robbins Prize, and a 2008 Kennedy Center Honor. Her many grants include the John D. and Catherine T. MacArthur Fellowship. She is a member of the American Academy of Arts and Sciences and an Honorary Member of the Am...