Mon,

Sep

21
FunkFest On Sale Friday, Sept. 25th at 10am.
9.21.09- It's an Old School Reunion! FunkFest at DPAC October 30! On Sale Friday, Sept. 25th at 10am.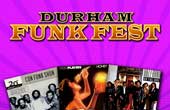 FOR IMMEDIATE RELEASE
FUNK FEST at DPAC October 30
It's an Old School Reunion!
On Sale Friday, September 25 @ 10am
Durham, NC- Sept. 21, 2009- The Durham Funk Fest will be performing at DPAC on October 30th at 8pm. Taking the stage will be six of the most celebrated funk groups in history: Con Funk Shun, Sugarfoot's Ohio Players, Dazz Band, Slave, and the Bar-Kays. Tickets go on sale Friday, September 25 at 10am. Tickets can be purchased at DPACnc.com, the DPAC Box Office, by calling 919-680-2787, or Ticketmaster. Tickets for this performance range from $37.50-$42.50.
Don't miss one of the greatest funk shows to come to the Triangle! According to Director of Operations Adrienne Quick-Wright, "Triangle Funk Fans will be treated to the best hits from the Funk Eras including songs like "Watching You", "Just A Touch Of Love", & "Stone Jam" from Slave, and "Ffun, Ffun, Ffun" & "Love Train" from Con Funk Shun." Says Quick-Wright: "We're planning for a full house and dancing in the aisles all night long!"

Con Funk Shun
In 1976, Con Funk Shun signed to Mercury Records, releasing eleven albums over a span of ten years and has been known as an American R&B Funk Band since, most popular in the 70's and 80's. The group's 1977 LP, "Secrets", was certified gold in the US, as were 1978's Loveshine, 1979's Candy, and 1980's Spirit of Love. They scored a string of top ten hits on the Billboard black singles chart, including 1977's "Ffun" (#1), 1978's "Shake and Dance with Me" (#5), 1979's, and "Chase Me" (#4).
Sugarfoot's Ohio Players
Known as a funky-pop-R&B beldn of master musicians, Surgarfoots's Ohio Players surround the exuberant and soulful "Sugarfoot", the signature voice and personification of the original Ohio Players. With prodigy bassist Trae Pierce, a second generation OP member, now returning to the band again, as Musical Director, Sugarfoot's Ohio Players perform all the "Sugar" hits everyone expects from an Ohio Players concert. To honor the tradition of their music, Pierce utilizes an exceptional stage band to deliver extraordinary performances in order to deliver the best funk performance to rival the legend of the Ohio Players.

Dazz Band
The Dazz Band is a former American funk music band that was most popular in the early 1980s. Emerging from Cleveland, Ohio, the group's biggest hit songs include the Grammy Award-winning "Let It Whip", "Joystick", and "Let It All Blow". The name of the band is a portmanteau of the description "danceable jazz". The Dazz Band, formed in 1976, grew out of the Cleveland jazz fusion band Bell Telefunk, composed of lead guitarist/songwriter Mike Calhoun, percussionist Kenny Pettus, drummer Isaac "Ike" Wiley, Jr., and his brother bassist Michael Wiley, and the band Mother Braintree.

Slave
Another Ohio Funk band to grace the stage is Slave, also very popular in the 70's and 80's. The first big hit from this group was the ever popular "Slide" in 1977 for Cotillion Records, where they remained until 1984. Trombonist Floyd Miller teamed with Tom Lockett Jr. (sax, keyboards), Carter Bradley (keyboards), Mark Adams (bass), Mark Hicks (lead and rhythm guitar, lead and background vocals), Danny Webster (rhythm guitar, lead and background vocals), Wayne Foote (guitar and lead vocals), Orion Wilhoite (sax), and Tim Dozier (drums). Vocalists Steve Arrington, Starleana Young, then Curt Jones came aboard in 1978, with Arr...