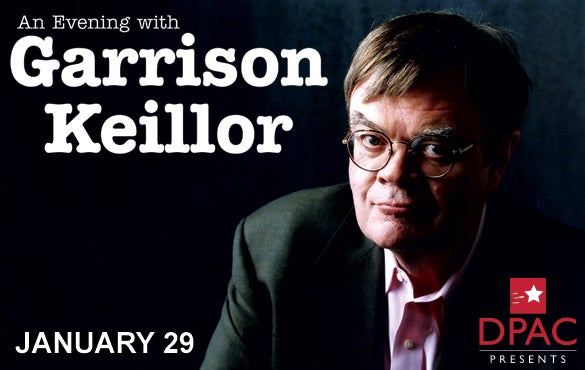 Fri,

Oct

17
Garrison Keillor Returns to DPAC on January 29th
October 17, 2014 (Durham, NC) – Master storyteller and host of public radio's A Prairie Home Companion, Garrison Keillor returns to DPAC, Durham Performing Arts Center, on January 29, 2015 in an intimate evening of humorous conversation and hilarious anecdotes. This will mark Keillor's third appearance to the DPAC stage, the first being a sold-out show in 2009 with A Prairie Home Companion.
Tickets go on sale Friday, October 31 at 10 a.m.:
• Online at DPACnc.com
• DPAC Ticket Center: 919.680.2787, 123 Vivian Street, Durham, NC
• Ticketmaster.com / Ticketmaster Charge by phone at 800.745.3000
Friends of DPAC members may place their orders on October 29. Joining Friends of DPAC is free, and you can register at http://www.dpacnc.com/fod.
"Since his 2011 appearance garnered rave reviews, we have been wanting to bring Garrison Keillor back to DPAC. Fans of A Prairie Home Companion do not want to miss this very special opportunity to experience Keillor live in a one-man show, sharing thoughtful musings and old-timey songs mixed with stories of the American Midwest, fatherhood, and more. Our theatre is the ideal setting for a conversation with this storytelling genius," said Emily Dahl McLoughlin, Marketing Director for Concerts at DPAC.
Garrison Keillor was born in 1942 in Anoka, Minnesota, and began his radio career as a freshman at the University of Minnesota, from which he graduated in 1966. He went to work for Minnesota Public Radio in 1969, and on July 6, 1974, he hosted the first broadcast of A Prairie Home Companion in St. Paul. The show ended in 1987, resumed in 1989 in New York as The American Radio Company, returned to Minnesota, and in 1993 resumed the name A Prairie Home Companion. Over 17 million listeners on more than 900 public radio stations now hear the show each week.

Keillor recently played himself in the movie adaptation of his show, A Prairie Home Companion (June 2006). It featured Meryl Streep and Lily Tomlin as the singing Johnson sisters, Lindsay Lohan as Streep's daughter, Woody Harrelson and John C. Reilly as singing cowboys Lefty and Dusty, and Tommy Lee Jones as the Axeman, who is dispatched by the radio station's new corporate owners in Texas to shut down the show.
He is also the author of many books, including Lake Wobegon Days (1985); The Book of Guys (1993); The Old Man Who Loved Cheese (1996); Wobegon Boy (1997); Me: By Jimmy "Big Boy" Valente As Told to Garrison Keillor (1999); Love Me (2003); Homegrown Democrat (2004); Pontoon (2007); Liberty: A Lake Wobegon Novel (2008); and Life Among the Lutherans (2009). In 2013, Keillor released his first book of poetry called O, What a Luxury: Versus Lyrical, Vulgar, Pathetic & Profound. This volume is written with his characteristic combination of humor and insight on love, modernity, nostalgia, politics, religion, and other facets of daily life.
Keillor has received numerous awards, including a Grammy® Award for his recording of Lake Wobegon Days. He has also received two Cable ACE Awards and a George Foster Peabody Award. He is a member of the American Academy of Arts and Sciences, and recently was presented with a National Humanities Medal by the National Endowment for the Humanities. In 1994, he was inducted into the Radio Hall of Fame at Chicago's Museum of Broadcast Communications.
With Philip Brunelle, he has performed with many orchestras, including the Chicago, Milwaukee, San Francisco, Pittsburgh, Minnesota, Dallas, and National symphonies. He has appeared at Wolf Trap, Carnegie Hall, and other major concert halls as a member of The Hopeful Gospel Quartet, and he has performed on his own in one-man shows across the country and on tour broadcasts of A Prairie Home Companion.