Mon,

Jan

4
Gary Allan Coming to DPAC
Tough All Over Gary Allan to Perform at DPAC March 12, 2010.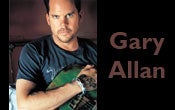 FOR IMMEIDIATE RELEASE
TOUGH ALL OVER GARY ALLAN TO PERFORM AT DPAC
March 12 at 8pm
• Tough All Over -9513's Top 10 Country Albums of the Decade
• Today- That Nashville Sound's Top 50 Songs Of 2009
• Tough All Over- Rhapsody's Country's Best Albums of the Decade
DURHAM, NC- January 4, 2010- Critically acclaimed hard rockin', no apologies country artist Gary Allan to perform at DPAC, Durham Performing Arts Center on Friday, March 12, 2010 at 8pm.
Tickets go on sale Friday, Jan 22nd., 2010 at 10am. Ticket prices start at $35 and can be purchased at the DPAC Ticket Center, 919.680.2787, and online at DPACnc.com. Tickets are also available through Ticketmaster outlets: FYE and Lowes Foods.
"DPAC is thrilled to add country artist Gary Allan to its repertoire. It is another step in establishing DPAC as the venue with something for everyone," said Bob Klaus, GM of DPAC. "2010 promises to be DPAC's most diverse season yet with some of the best entertainment around."
Gary Allan is best known for his gravely growl and his raw, emotional, freight-train-to-nowhere lonely lyrics. In his last release Living Hard, from MCA Nashville, Allan once again proves that, though times may change, the thread of truth at the center of his music remains the same. Allan's new album Get Off On The Pain is slated to be released spring of 2010, and the album is perhaps Allan's most personal release to date, as he penned roughly half of its tracks including "No Regrets," a song he wrote about losing his wife to suicide in 2004. The first single, "Today," is an emotional ballad about losing a love to someone else. The song is climbing the rungs of the Billboard charts.
Over the years, Allan's seven studio albums and Greatest Hits Package have produced twenty-two singles on the Billboard Hot Country Songs charts, including three that reached Number One: "Man to Man" and "Tough Little Boys" in 2003, and "Nothing On but the Radio" in 2004. For more information go to www.garyallan.com.