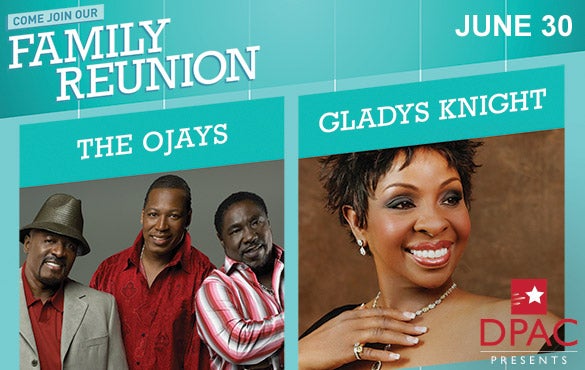 Mon,

Apr

8
Gladys Knight and The O'Jays Come to DPAC
April 8, 2013 (Durham, NC) — Come to DPAC, Durham Performing Arts Center, to experience what happens when the "Midnight Train" and the "Love Train" meet for one incredible night of music. Legendary performers Gladys Knight and The O'Jays will heat up the Cool Summer Nights at DPAC series when the Family Reunion Tour arrives on June 30. This show is presented in partnership with The DOME Group, Inc.
Tickets go on sale Friday, April 12 at 10am:
• Online at DPACnc.com
• DPAC Ticket Center: 919.680.2787, 123 Vivian Street, Durham, NC
• Ticketmaster.com / Ticketmaster Charge by phone at 800.745.3000
Friends of DPAC members may place their orders on April 10. Joining Friends of DPAC is free, and you can register at http://www.dpacnc.com/fod.
"The incomparable Gladys Knight sharing the DPAC stage with The O'Jays will make an unforgettable night for concert-goers", says Sulaiman Mausi of The DOME Group, Inc. "I truly believe that this show will be one for the books."
"Gladys Knight joins a growing list of legends who have starred on the stage at DPAC. With the addition of The O'Jays, this concert promises to be the ultimate R&B event of the summer. DPAC was built to present these intimate evenings with your favorite all-time artists. Escape from the heat, and enjoy a night of timeless music," said Emily McLoughlin, Marketing Director for DPAC.
The great ones endure, and Gladys Knight and The O'Jays have long been two of the greatest. The labels 'icon' and 'legend' are often overused, but no truer words have been spoken about these two performers. Both are Rock and Roll Hall of Fame Inductees, multiple Grammy® nominees and staunch humanitarians.
Eight-time Grammy® winner Gladys Knight has enjoyed #1 hits in pop, R&B and Adult Contemporary including her mega-hits "Midnight Train to Georgia" and "Neither One of Us (Wants to Be the First to Say Goodbye)." She has triumphed in film, television and live performance. Following her successful run competing on Dancing With the Stars, Knight found herself again on stage with the currently syndicated sitcom, The First Family, where she plays the mother of President William Johnson. Coming fall 2013, Knight will lend her musical expertise to Centric's original series Apollo Live.
The O'Jays--Eddie Levert, Sr., Walter Williams, Sr. and Eric Nolan Grant--have amassed 24 Top Ten smashes and 59 total charted songs and 50-plus years making such international hits as "Back Stabbers", "For The Love Of Money", "Love Train", "I Love Music" and "Use Ta Be My Girl." The O'Jays, who last performed at DPAC on January 15, 2012, are light years away from easing up on the gas. Like fine wine, The O'Jays just get better with time.