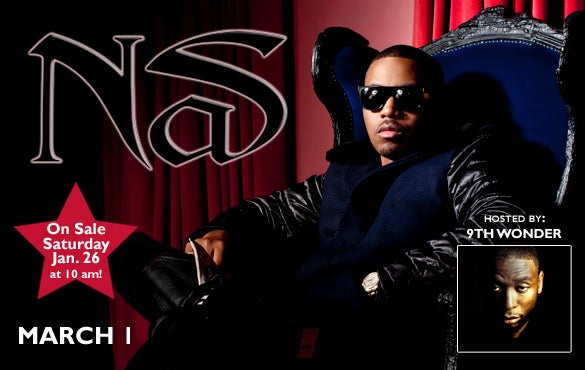 Fri,

Jan

18
Hip Hop Superstar NAS Coming to DPAC on Fri, March 1
JANUARY 18, 2013 (Durham, NC) — Don't miss one of hip hop's most influential MCs and lyricists Nas live in concert at DPAC, Durham Performing Arts Center, on Friday, March 1, 2013. Following the release of his best-selling #1 new album Life Is Good, Nas is currently nominated for four Grammy© Awards including Best Rap Album and Best Rap Performance. This exclusive concert will be hosted by Durham's own 9th Wonder, Grammy©-winning producer, DJ and college lecturer.
Tickets go on sale Saturday, January 26 at 10am:
• Online at DPACnc.com
• DPAC Ticket Center: 919.680.2787, 123 Vivian Street, Durham, NC
• Ticketmaster.com / Ticketmaster Charge by phone at 800.745.3000
Friends of DPAC members may place their orders on January 25. Joining Friends of DPAC is free, and you can register at www.DPACnc.com/friendofdpac.
"Nas is universally considered one of the greatest rappers of all time. His catalog spans two decades and we are excited to be able to bring him to the Triangle for the first time in over a decade. It's going to be an amazing show," says promoter Sulaiman Mausi of The DOME Group.
Ever since a 17-year-old Nasir Bin Olu Dara Jones appeared on Main Source's 1991 classic "Live at the Barbeque," hip-hop would be irrevocably changed. Nas. Gifted poet. Confessor. Agitator. Metaphor master. Street's disciple. Political firebrand. Tongue-twisting genius. With music in his blood courtesy of famed blues musician father Olu Dara, the self-taught trumpeter attracted crowds with his playing at age 4, wrote his first verse at age 7 and, with 1994's Illmatic, created one of the greatest hip-hop albums of all time before he could legally drink. Two decades on, Nas remains an incendiary, outspoken and brutally candid rapper on the recently released Life is Good, his tenth album and sixth to debut at the top of the Billboard 200.
Critics and fans immediately flocked to Life is Good , with everyone from Rolling Stone ("He cuts his rhymes with midlife realism and darin g empathy") and MTV ("The most emotionally raw record he's made since his first") to HipHopDX ("An obvious maturation from the veteran") and Pitchfork ("Best New Music") praising the album. Far from divorcing personal problems from a hyperboli c, caricatured alter ego, Life is Good finds Nas confronting the myriad issues he's faced head-on since 2008's Untitled ("Daughters, "Bye Baby"), mixed with a wayward wisdom that allows him to channel the past without attempting to ape it ("Loco-Motive," "Nasty").
Nas's acclaimed career includes seven platinum albums, Top 5 rankings on MTV's 10 Greatest MCs of All Time, and The Source's Top 50 Lyricists of All Time. In recent years, though, Nas has transcended mere rapper status and engaged in greater levels of philanthropy. The rapper is an avid UNICEF supporter, helping to raise funds for East African region Horn of Africa and teaming up with the family of George Harrison for the organization's Month of Giving. The rapper also donated all proceeds of Distant Relatives, his 2010 collaboration with longtime friend Damian Marley, to help end poverty in Africa.
Nas's desire for greater interaction with his fans has also led him to new business ventures. He serves on the board of social photo sharing site The Fancy alongside Twitter founder Jack Dorsey and Facebook co-founder Chris Hughes. The rapper also became a founding member and launched the lifestyle site 12 Society, which allows fans to receive a monthly shipment of clothes and gear hand-picked by the rapper.
Rapper J-Live once said satirically, "To be a great MC, you have to be a great liar." It's safer to not tell the truth; safer to sanitize your existence; safer to align yourself with the producer du jour; safer to rhyme about tropes over truths. Nas's catalog speaks for itself. Over 10 albums, the rapper has never been one to play it safe. Whether it's rhyming about politics, hip hop, race, religion, other artists or personal relationships, Nas has consistently brought unparalleled and unprecedented levels of honesty to hip hop, a trait often overlooked in the genre. On Life is Good's "Reach Out," Nas rhymes, "So call me a genius/If you didn't/Now that I said it/I force you to think it." For most artists, this would be arrogance bordering on hubris. For Nas, who's remained vital and
relevant for nearly 20 years, it's just fact.