Tue,

Apr

21
If There's a Show To See; Make it Spring Awakening.
4.22.09 If There's a show to see, make it Spring Awakening.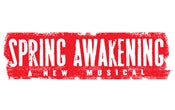 Providence Journal

Theater review: If there's a show to see, make it 'Spring Awakening'
Wednesday, April 22, 2009

By Channing Gray
The Tony Award-winning Spring Awakening has more substance than your usual Broadway musical.

If you think Spring Awakening is a musical about parasols and the return of the PawSox, think again. It's the Tony Award-grabbing smash that knocked Broadway on its ear in 2006, a touching, sometimes troubling show about teen angst that tackles such subjects as masturbation, abortion and suicide.

Now local audiences will get a chance to fall under its spell this weekend at the Providence Performing Arts Center. If you see just one show at PPAC this season, make it Spring Awakening.

If the show sounds a little dark, that's because it is — sort of. The opening night crowd let out some customary chuckles as the night got under way, but soon grew quiet as patrons presumably found themselves in the presence of a very unusual and very striking Broadway offering.

Based on the controversial 1891 Frank Wedekind play by the same name, Spring Awakening introduces us to a band of German high school students struggling with challenges that teens everywhere face. The language and dress are fairly formal, reflecting the show's Expressionists roots, but the scenes are accompanied by the pulsing, often sweet tunes from folk-rocker Duncan Sheik, as though to say the action may be taking place in the 19th century, but the issues are just as pressing for youngsters today.

When one of the students in Latin class gets pummeled verbally by his teacher, he steps forward in a flash of neon lights, as the action freezes around him, and sings "The Bitch of Living."

In fact, the show has drawn a huge following among teens, who often bring their parents to let them know what's on their minds. At Tuesday's opening, a group of young people from a Spring Awakening support group sat on the stage with cast members, in what looked like a mock classroom.

But this is not surprising, seeing that Spring Awakening is very much a kid-centric show, told from the point of view of this group of searching teens. Moritz, perhaps the most complicated and troubled character of the lot (and most interesting), has difficulty staying awake in class because he's got sex on the brain. At the same time, Wendla, played by fetching Christy Altomare, asks her mother to tell her where babies come from and just gets the brush off, something that comes back to haunt both mother and daughter.

It's sort of the teens against the adults, who are not only unresponsive and don't tell their kids about the birds and the bees, but in some cases set out to screw up their lives. When it looks like Moritz has passed his exams, his overbearing teachers conspire to throw him under the bus because there is no room for him in next year's class.

Interestingly, writer Steven Sater, who adapted the Wedekind script, has lumped the adults into a single man and woman, who double as teachers and uncaring parents. It's as though the adults belong to a separate anonymous world that, in a lot of ways, does not make sense to 16-year-olds. It's one of those you-can't-trust-anyone-over-30 situations.

Actually, the plot is pretty simple, pretty straightforward, if a little grim. It's more a series of vignettes dealing with a host of hot-button issues, such as teen pregnancy and sexual abuse. This is all played out in a giant brick chamber filled with flashing lights, a large blue butterfly wing and other images that have to do with school.

The nice thing about the show is that the creative staff has rounded up some stellar voices, ...