Mon,

Apr

12
It's Beginning to Look A Lot Like the Holidays at DPAC
4.12.10- - DPAC proudly announces their 2010 holiday line-up to include Celtic Thunder, A Christmas Carol, Christmas with Amy and Vince Tour, and the Moscow Ballet's Great Russian Nutcracker.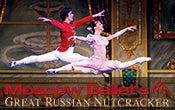 DURHAM, NC- DPAC, the new Durham Performing Arts Center, proudly announces their 2010 holiday line-up.
• Celtic Thunder: Nov. 17th on sale date TBD
• A Christmas Carol: on sale Monday, April 19th
December 3rd – 7:00 pm
December 4th – 7:00 pm
December 5th – 2:00 pm
• Christmas With Amy & Vince Tour: December 14th on sale date TBD
• Moscow Ballet: December 22nd on sale Monday, April 19th
"We had so many Holiday show requests from DPAC fans this past November and December that we have gone all out for 2010. With a world-class setting and our famous red carpet hospitality, we hope attending a special DPAC Holiday show becomes an annual tradition for Triangle audiences. More than ever there is something for everyone at DPAC…dance, musicals, comedy, country, plus we even expect a few more additions to this great line-up," said GM Bob Klaus.
Tickets for all events can be purchased at the DPAC Ticket Center, 919.680.2787, and online at DPACnc.com. Tickets are also available through Ticketmaster outlets: Crabtree Valley Mall, FYE and Lowes Foods.
Kicking off the Holiday Concert season at DPAC will be Celtic Thunder on November 17th. Celtic Thunder debuted in August 2007 at the Helix in Dublin, Ireland. Since the group's formation, Celtic Thunder has released four albums: Celtic Thunder, Act Two, Take Me Home, It's Entertainment as well as three live performances on DVD. In December 2009 Billboard magazine named Celtic Thunder Top World Album Artist. Their first three albums also placed in the Top 10 for World Albums. Celtic Thunder is known for its eclectic style with songs ranging from a soloist to an ensemble focus. The group is backed by the Celtic Thunder Band on their concert tours, and their live shows are known for the use of dramatic lighting effects and choreography, as well as a stage set resembling an ancient stone pathway suggestive of those referenced in Celtic lore.
Running from December 3-5, DPAC welcomes back one of the Triangle's most beloved Christmas traditions Ira David Wood III's A Christmas Carol. This will mark the second appearance that the hit musical has opened on DPAC's stage. The adaptation of the Charles Dickens classic will commence its 36th annual run in the Triangle. Theatre In The Park's original musical comedy adaptation of A Christmas Carol, based on the book by Charles Dickens and adapted for the stage by Ira David Wood III, has been cited as "one of the most successful shows in North Carolina theatre history" and voted one of "the top 20 events in the Southeast" by the Southeast Tourism Society. Come be one of the first to see this perennial favorite.
The Moscow Ballet makes its debut performance on DPAC's stage on December 22nd for one spectacular performance. A truly spectacular holiday event that brings friends and family together, Moscow Ballet's "Great Russian Nutcracker" is the one performance this season you shouldn't miss! Featuring over forty superbly trained Russian dancers, gorgeously designed original costumes and breathtaking sets, the "Great Russian Nutcracker" combines all the elements it takes to make this Christmas a memorable one. VIP packages are available- please call the DPAC box office for further details.
Music superstars Amy Grant and Vince Gill will embark on their fifth Christmas tour, the Christmas With Amy & Vince Tour and makes a highly anticipated stop to DPAC on December 14th. Amy Grant's career spans over 25 years and stretches from her roots in gospel into an iconic pop star, songwriter, television personality, and philanthropist. Vince Gill, one of the most popular singers in modern country music, offers a love for country music, top-notch songwriting, and world-class guitar playing, all wrapped ...