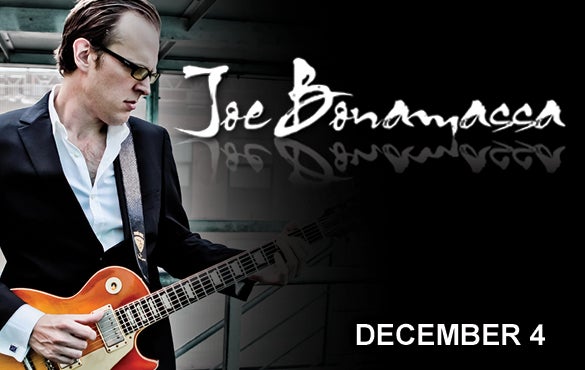 Mon,

Apr

28
Joe Bonamassa returns to DPAC on December 4
April 25, 2014 (Durham, NC) – Internationally renowned guitar superstar Joe Bonamassa will bring his U.S. Fall Tour to DPAC, Durham Performing Arts Center, on December 4, 2014 with a brand new show for his fans offering two entirely new and exciting band line-ups with Bonamassa essentially opening for himself. The first set will feature Bonamassa alongside the world music acoustic band from his #1 Billboard acoustic CD and DVD, An Acoustic Evening At The Vienna Opera House (J&R Adventures). Playing an assortment of rare, vintage, organic and "oddball" instruments, the performers include Gerry O'Connor, Mats Wester, and Lenny Castro who will run through an hour of the signature acoustic performance from Bonamassa's Vienna show, treating the audience to a gorgeously textured "unplugged" experience. Bonamassa will then shift into electric mode for the second half of the show featuring his regular touring band: Carmine Rojas (bass), Tal Bergman (drums), and new touring keyboardist (and fellow Black Country Communion member) Derek Sherinian.
Tickets go on sale Friday, May 2 at 10 a.m.:
• Online at DPACnc.com
• DPAC Ticket Center: 919.680.2787, 123 Vivian Street, Durham, NC
• Ticketmaster.com / Ticketmaster Charge by phone at 800.745.3000
Bonamassa has a full slate of projects coming out this year. Jazz-funk groove machine Rock Candy Funk Party (RCFP) has followed up last year's debut album We Want Groove with Rock Candy Funk Party Takes New York - Live At The Iridium (J&R Adventures) – a live DVD/Blu-ray package which includes a 30-minute documentary and an exclusive live companion double CD featuring over 100 minutes of music, all filmed and recorded over 3 nights at the legendary Iridium Jazz Club in New York City.
In May, hot on the heels of their GRAMMY nomination, Bonamassa and force-of-nature blues-rock vocalist Beth Hart will deliver Beth Hart & Joe Bonamassa – Live In Amsterdam – the very first live experience from one of music's most powerful female voices and one of the world's greatest guitar players. Against the backdrop of the beautiful, historic Koninklijk Theater Carré in Amsterdam, the performance wows with scorching soul covers from the duo's 2011 debut album Don't Explain and 2013 follow-up Seesaw, originally made famous by artists such as Aretha Franklin, Etta James, Billie Holiday, Tom Waits, Ray Charles, Donnie Hathaway, Lucinda Williams, Bill Withers, Delaney & Bonnie, Buddy Miles, Tina Turner, Slackwax, Melody Gardot, Nina Simone, and more. This DVD/Blu-ray will feature 22 songs and over two hours of bonus and behind-the-scenes footage.
Later in the year, a much-anticipated new solo studio album will be released featuring all-new, all-original material.
Last fall, the tireless bluesman released Tour De Force – Live In London (J&R Adventures), an unprecedented live concert event unfolding over four DVDs or Blu-rays recorded earlier this year at some of the most famous and iconic London venues which he has previously played, from the smallest on up: The Borderline, Shepherd's Bush Empire, Hammersmith Apollo, and Royal Albert Hall. Each evening is marked by a unique theme with different setlists, arrangements and ensembles, giving the viewer four different performances , over 60 songs in total – with some having never been performed live before – from his extensive career.
Bonamassa also recently launched, alongside co-host Matt Abramovitz (formerly of Sirius Satellite Radio's blues channel), a brand new weekly radio show called The Pickup – a highly entertaining show blending music history, carefully curated songs, an encyclopedic knowledge of guitar facts, and illuminating insights into the world of a musician. A new show is streamed every Friday at www.thepickupradio.com; episodes are available to stream anytime.
Bonamassa has had eleven #1 Billboard Blues Albums (more than any other artist), and this is his first Grammy nomination. Bonamassa's 2013 solo acoustic project, An Acoustic Evening at the Vienna Opera House, was nominated by the Blues Music Awards for Best DVD. The guitarist's 2009 DVD, Live From The Royal Albert Hall, recently received RIAA Platinum Certification.