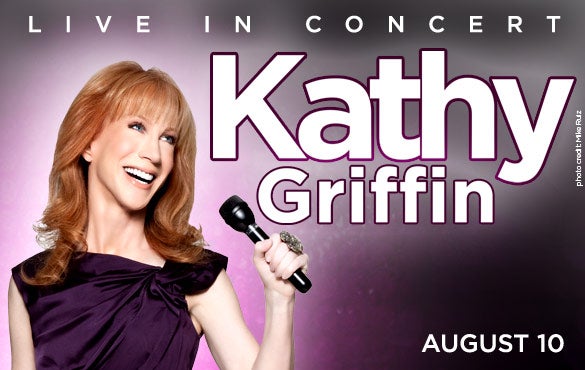 Wed,

May

2
Kathy Griffin Comes to DPAC on August 10
May 2, 2012 (Durham, NC) — Two-time Emmy® winner and bestselling author, Kathy Griffin will be performing on August 10 at DPAC, Durham Performing Arts Center. This special live comedy event is presented by DPAC and the Carolina Theatre, as headlining event of the North Carolina Gay and Lesbian Film Festival (NCGLFF).
Tickets go on sale to the public beginning May 21 at 10am:
• Online at DPACnc.com and CarolinaTheatre.org
• DPAC Ticket Center: 919.680.2787, 123 Vivian Street, Durham, NC
• Ticketmaster.com / Ticketmaster Charge by phone at 800.745.3000
• Ticketmaster outlets including Crabtree Valley Mall
VIP Passes for the NC Gay and Lesbian Film Festival will include a premium seat to Kathy Griffin at DPAC. The film festival's VIP passes go on sale Friday, May 4 through the Carolina Theatre Box Office. Availability is limited.
Friends of DPAC members may place orders to the show on May 17. Joining the Friends of DPAC is free, and you can register at www.DPACnc.com/friendofdpac.
"We are thrilled to add Kathy Griffin to our unmatched 2012 comedy lineup. I look forward to hours of laughs as Kathy shares her uncensored take on the latest in pop news to politics. Kathy Griffin will be the perfect kick-off to the annual North Carolina Gay and Lesbian Film Festival hosted in downtown Durham. Along with our friends at the Carolina Theatre, we look forward to presenting superstar entertainment that will bring thousands of visitors to our community this summer," said Emily Dahl, Marketing Director of Concerts and Comedy for DPAC.
"We expanded the North Carolina Gay and Lesbian Film Festival to 10 days in order to grow the festival outside the walls of the Carolina Theatre and to create more opportunities to partner with other venues," said Bob Nocek, President/CEO of the Carolina Theatre. "NCGLFF is one of downtown Durham's signature events, and bringing DPAC into the festival only helps to increase the festival's presence throughout the state and the Southeast."
Kathy Griffin is a multi-faceted performer with rapid fire wit. She is a two-time Emmy® winner, for "Kathy Griffin: My Life on the D-List", NY Times bestselling author, with her tell-all autobiography entitled, "Official Book Club Selection: A Memoir According to Kathy Griffin," Grammy® nominee, for her comedy albums "For Your Consideration," "Kathy Griffin Does the Bible Belt" and "Kathy Griffin: 50 and Not Pregnant." She has been making audiences laugh for years discussing Hollywood gossip and celebrity blunders.
Griffin's new one-hour weekly talk show "KATHY" premiered on Bravo to great reviews. The show encompasses all the things Kathy loves; stand up, pop culture, politics and a sprinkling of her beloved mom Maggie Griffin.
Kathy is very involved with the gay and lesbian community and was presented with the prestigious Vanguard Award at the 2009 GLAAD Media Awards. The Trevor Project awarded Kathy with Lifetime Honoree status at the 2011 gala for her tremendous work with the GLBTQ community. Kathy won the 2009 Gracie Award for Outstanding female lead in a Comedy Series. She was the 2007 GAVYN Awards Honorary Gay, the recipient of the 2006 Ladies Home Journal Funny Ladies We Love Award and in 2005 she received the Lambda Legal Liberty Award. Other honors include 2003 Toys for Tots Commander's Award, Women's Night Special Comedic Award, Lucie Award, 2005 Aid for AIDS Friend of the Year and in 2007 was voted one of the Top 100 Irish Americans in Irish American Magazine. Kathy has also been nominated four years in a row for the Television Producer of the Year in Non-Fiction Television PGA Award.