Tue,

Mar

17
Kenny Loggins and Jimmy Messina
The two men are putting together a nationwide tour that picks up where 2005's hugely successful "Sittin' In Again" reunion tour left off and making Durham Performing Arts Center one of their stops.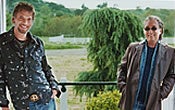 The musical reunion of Loggins & Messina join the DPAC schedule on Thursday, September 24th at 8pm.
All this shared activity marks the unexpected and unlikely return of the most successful duo of the early Seventies – a group whose most enduring songs were so well crafted that they have never really gone away. At the same time, Loggins & Messina find themselves rebuilding the personal connection that was lost long ago.
"This is less about a musical reunion and more about reuniting a relationship that's become more of a friendship than ever before," says Jimmy Messina, "It's funny how our separate journeys have somehow brought us back around, into each others lives again," Kenny Loggins says.
Though Loggins & Messina's first Greatest Hits collection was called Best Of Friends, both men confess that their relationship has long been a complex and sometimes difficult one. When they first met, Jimmy Messina was already a well-established success story, having produced and played with the legendary band Buffalo Springfield and later with the country-rock pioneers Poco. Loggins, meanwhile, was a young singer-songwriter with far less experience, but with talent to burn as evidenced by early compositions like "House At Pooh Corner" and "Danny's Song." Then Sittin' In (1971), originally envisioned as a one-off joint release intended to introduce Loggins as part of a Messina six-album production deal with Columbia Records, became a smash hit.
So, by public demand, this accidental duo was created. In the next few years, a series of albums would follow in rapid order – 1972's Loggins & Messina, 1973's Full Sail, 1974's double-live On Stage, the same year's Mother Lode, 1975's cover song set So Fine and 1976's Native Sons. The Best of Friends collection followed later that year and in 1977 another live album fittingly called Finale. With that, Loggins & Messina, who had sold sixteen million albums and become one of rock's most popular draws, was over and apparently done.