Sat,

Jan

30
LEGENDARY RINGO STARR AND HIS ALL-STARR BAND
Ringo Starr and His All-Starr Band at DPAC July 11, 2010. Tickets on Sale, Friday, Feb. 19th at 10am.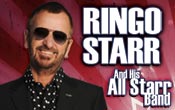 Sunday, July 11, 2010

• Multiple GRAMMY Award Winner
• Rock and Roll Hall of Famer- The Beatles
• 2010 Star Honoree on the Hollywood Walk Of Fame
DURHAM, NC- January 20, 2010- Legendary Ringo Starr and his All-Starr Band to heat up the summer at DPAC, Durham Performing Arts Center on Sunday, July 11, 2010.
Tickets go on sale Friday, February 19, 2010 at 10am. Ticket prices start at $59 and can be purchased at the DPAC Ticket Center, 919.680.2787, and online at DPACnc.com. Tickets are also available through Ticketmaster outlets: FYE and Lowes Foods.
"More and more DPAC is coming to be recognized as the home for superstar concerts featuring the biggest legends in Rock and Roll," said Bob Klaus, GM of DPAC. "Ringo (and his All-Star Band) join Steve Winwood, Roger Daltrey, The Temptations, Jackson Browne, BB King, Leonard Cohen and Steely Dan on the list of Rock and Roll Hall of Fame inductees to have played DPAC."

Since beginning his career with The Beatles in the 1960s, Ringo Starr has been one of the world's brightest musical luminaries. He has enjoyed a successful and dynamic solo career as artist, singer, songwriter and drummer, an active musical collaborator, and as an actor. Drawing inspiration from classic blues, soul, country, honky-tonk and rock 'n' roll, Ringo continues to play an important role in modern music with his solo recording and touring.
Y Not Starr's album slated for release on January 12, 2010. Produced by Starr it promises to be his most personal album yet. Ringo is joined on Y Not by old and new friends including Paul McCartney, with whom Starr sings on Y Not's stunning first single, "Walk With You," a moving new song about the power of friendship.
For his performance at DPAC Ringo will perform 12-14 of his hits plus songs from his band.
Ringo Starr All-Starr Band:
Edgar Winter
Edgar Winter is a multi-talented singer, songwriter, keyboardist and saxophonist whose smash hits include "Frankenstein" and "Free Ride". He may best be remebered for his work with the Edgar Winter Group as he captured an era in pop history and redefined the possibilities of fusing blues with rock.
Rick Derringer
Rick Derringer is an American guitarist, vocalist and producer. Derringer was just 17 when his band The McCoysTM recorded the No.1 hit "Hang On Sloopy" in the summer of 1965. Since then his long career has flousrished experimenting in varied genres including rock, blues, jazz and christian formats. Derringer's may be best known for the hard rockin' hit "Rock and Roll Hoochie Koo".
Gary Wright
Gary Wright visionary songwriter, performer and all around musican has spent more than thirty years shattering conventional ideas about how to make chart topping rock hits. Wright is best known for his classic hits "Dream Weaver", "Love is Alive", and "Really Wanna Know You". According to Wright, his best known song "Dream Weaver" was inspired by literature on Hinduism and India, given to him by George Harrison.
Richard Page
Richard Page the lead singer and bassist in 1980s pop rock band Mr. Mister which amassed two consecutive Hot 100 #1's hits with the singles "Broken Wings" and "Kyrie" . Since then Page has penned songs for the likes of Kenny Loggins, Madonna (Golden Globes and Grammy nominated song, "I'll Remember" from With Honors), Josh Groban, Celine Dion, Chaka Khan, Donna Summer, Dionne Warwick, The Pointer Sisters, Meat Loaf, Patti LaBelle, Hall & Oates, BB Mak, Bill Champlin, Al Jarreau, Leona Lewis and many others.
Wally Palmer
W...