Thu,

July

23
Leonard Cohen
Leonard Cohen 2009 World Tour Makes DPAC One of Only Fifteen City Stops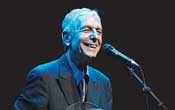 FOR IMMEDIATE RELEASE

DUE TO OVERWHELMING DEMAND
LEONARD COHEN'S ACCLAIMED 2009 WORLD TOUR RETURNS
* * *
DPAC ONE OF ONLY FIFTEEN NORTH AMERICAN DATES
* * *
NOVEMBER 3, 2009 AT DPAC
DURHAM, NC, July 23, 2009 – To the delight of his legions of fans, Leonard Cohen will once again return to the U.S. this fall for the final leg of his critically acclaimed 2009 World Tour and make a stop at DPAC November 3, 2009. Since taking the stage earlier this year at New York's Beacon Theatre—his first stateside performance in more than fifteen years—Mr. Cohen has enchanted audiences, earning rave reviews and sold-out concerts across the globe. The highly anticipated 15-date trek kicks off October 17th at Bank Atlantic Center in Ft. Lauderdale, FL and culminates on November 13th in San Jose, CA. Tickets for the newly added concerts will go on sale Friday, August 7th at 10:00am at DPACnc.com, 919.680.2787 or the DPAC Box Office. Additional information is available at www.DPACnc.com, www.LeonardCohen.com and www.AEGLive.com.
While the acclaimed singer/songwriter/poet is currently dazzling crowds across Europe, his fall return to the U.S. will mark the final engagements of the intimate, superbly crafted concert tour. Encore performances have been added in a number of cities, including New York for a fourth and final show; Philadelphia for one of the last concerts ever at the soon-to-be-closed Wachovia Spectrum; as well as a third concert in Chicago, IL.
The second North American leg will extend Cohen's phenomenal series of concerts, which have been overwhelmingly received both at home and abroad. Countless five-star reviews have followed the tour across the UK, Europe, Australia and New Zealand. As the London Daily Telegraph plainly stated, it is "an extraordinary night of music," while the UK's Champion Newspapers remarked that concertgoers "were more reverential to the great man…and appeared to hang on his every word." The Liverpool Daily Post stated that Cohen "seemed to be more a man worshipping than simply singing hits…the care with which he shaped, uttered and offered each word gave the song a sacred, prayer-like quality."

Mr. Cohen's current band features Sharon Robinson and the Webb Sisters (background vocals), Roscoe Beck (musical director & bass), Neil Larsen (keyboards & Hammond B3 accordion), Bob Metzger (electric, acoustic & pedal steel guitar), Javier Mas (bandurria, laud, archilaud, 12-string acoustic guitar), Rafael Gayol (drums, percussion), Dino Soldo (sax, clarinet, dobro, keys).
In conjunction with the tour, Columbia Records released Leonard Cohen's Live In London on March 31, 2009. The CD and DVD release contains a musical chronicle of the legendary musician's historic July 17, 2008 concert at London's O2 arena.