Fri,

Oct

8
Making of a musical: Billy Elliot From Screen to Stage
Making of a musical: Billy Elliot from Screen to Stage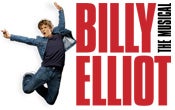 Following the premiere of Billy Elliot at the 2000 Cannes Film Festival, a sobbing Elton John had to be helped from the theater. "It touched me so much," he says. "The story is very similar to mine: Trying to be something out of the ordinary. Having a talent and wanting to break free from what your parents want you to do. Wanting approval from your father, especially when your father doesn't approve of the profession you've chosen."

John was so moved and so inspired by the movie that at a party later that evening, he approached director Stephen Daldry about the possibility of adapting Billy Elliot for the musical stage. "I didn't seriously consider it," says Daldry. "I didn't think it was a viable option."

Billy Elliot is the story of an adolescent who discovers he has a talent and passion for ballet, and pursues it despite the vehement objections of his father and the derision of his community, a coal-mining village in Northern England. Intertwined with Billy's journey is the unfolding of the 1984 coal miners' strike in Great Britain, an event so devastating that the repercussions are still felt to this day.

Lee Hall, the screenwriter, wasn't at Cannes, but when John invited him and Daldry to New York for a meeting to discuss the potential of a Billy Elliot musical, his lack of enthusiasm matched the director's. "I thought the idea was rubbish," says Hall. "I thought, 'How can we have dancing miners? How could you do this without making a travesty of what I value in the film?' The film has a sense of reality, and I couldn't figure out how the musical form would mesh with this story. But I thought, 'He's Elton John. I have to meet him.'"
"I realized that what Elton felt was very personal to him, and that he understood the story from the inside," says Hall. "One of my big concerns was to keep an emotional core, and he was already presenting something quite unusual. And I also realized there was a tradition of musical theater that completely embraced all the things Billy Elliot is about. Going back as far as Show Boat, musicals have dealt with issues and politics. And the musicals that I love, like the Rodgers and Hammerstein musicals, are very often about the common man. So I realized that the music from the mining communities – the folk songs, the hymnal singing – could provide a kind of soundtrack for this show."

Hall, Daldry, and Peter Darling, the film's choreographer, decided to cautiously move forward with the idea. "We made a pact that we would do the show together, so long as we would not short-change the material emotionally or physically," says Hall who, in addition to writing the book would write the lyrics to John's music. "And we wanted to be aesthetically ambitious, rather than just try to translate it from one medium to the other."

Since opening in London in 2005, Billy Elliot the Musical has become an international phenomenon, the recipient of more than 70 awards. In 2009 the show won 10 Tony Awards, including best musical; Daldry won for best direction of a musical, Hall for book of a musical, and Darling for choreography.
"I think people understand how passionate we all are about the show, how personal it is to us," says Hall. "I think that all of us who made Billy Elliot are slight misfits. We come from very different places, but were raised in the cracks of British society; we neither feel at home in one place or another. In a sense, the show is a celebration of all of that. We all share this rather Utopian vision of what art can be."

"What appealed to me most about doing the show was to have the opportunity to delve into the miners'...