Mon,

Mar

1
Mary Chapin Carpenter to Perform at DPAC
3.1.10- Mary Chapin Carpenter to Perform at DPAC this July. Tickets go on sale Friday, March 19th at 10am.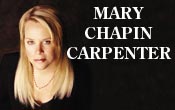 Five time Grammy Award winner Mary Chapin Carpenter to perform at DPAC, the new Durham Performing Arts Center on Sunday, July 18th, 2010.
Tickets go on sale Friday, March 19, 2010 at 10am. Ticket prices start at $22.50 and can be purchased at the DPAC Ticket Center, 919.680.2787, and online at DPACnc.com. Tickets are also available through Ticketmaster outlets: FYE and Lowes Foods.
"Fans are in for a special treat with our just announced concert with Mary Chapin Carpenter. DPAC concerts with singer-songwriters have become legendary for their intimate atmosphere and acoustics. Jackson Browne, John Prine, Tori Amos and now Mary Chapin Carpenter, for acclaimed artists in a world-class setting, there's no better place than DPAC," said Bob Klaus, DPAC, GM.
For over 20 years, Mary Chapin Carpenter has chosen her own path. Her music has been described as folk, Americana and singer-songwriter. From her first gigs as a rising star on Washington DC's folk scene in the early 1980s, she has made a reputation as both a singer and prolific songwriter. She has released eleven albums, resulting in five Grammy Awards and over 13 million records sold. She has scored 12 top 10 singles, including Grammy nominated "He Thinks He'll Keep Her," for a Record of the Year. Carpenter has achieved the same success as a live performer, having toured nationally and internationally and winning two Pollstar Country Tour of the Year awards.
On April 27, Mary Chapin Carpenter returns with a new album, The Age Of Miracles, the follow up to 2007's The Calling. The album is her twelfth overall. The Age Of Miracles offers guest vocals by Vince Gill (on the track "I Put My Ring Back On") and Alison Krauss on ("I Was a Bird.")
The album was produced by Carpenter and long-time collaborator Matt Rollings (Lyle Lovett, Keith Urban) and was recorded and mixed by Chuck Ainlay (Mark Knopfler, Sheryl Crow, Willie Nelson). Joining Carpenter in the studio were Matt Rollings (piano, B-3 organ), Russ Kunkel (drums), Duke Levine (electric and acoustic guitar), Glenn Worf (bass), Dan Dugmore (steel and 12 string guitar) and Eric Darken (percussion).
Throughout her career Carpenter has remained immersed in humanitarian work, performing in support of cancer and AIDS research, U.S. troops overseas, the Campaign for a Landmine Free World and hunger relief efforts, among other causes. Carpenter was also part of a CNN special on the anniversary of September 11, and recently she has contributed a regular, bi-weekly column to The Washington Times. Additionally, Carpenter has been featured on NBC's "Today Show;" CBS's "Late Show with David Letterman," NPR's "Morning Edition", NPR's "All Things Considered" and CBS News' "Sunday Morning."
For more information please go to www.marychapincarpenter.com.