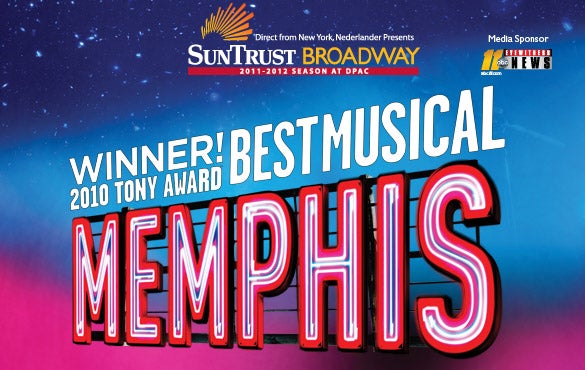 Thu,

Aug

4
Memphis Announces Cast for January 24-29 Shows at DPAC!
8.4.11- The Cast Of The New Broadway Musical Memphis Announcement, Tickets On Sale Monday, September 12!
ANNOUNCING THE CAST OF THE
U.S. NATIONAL TOUR OF
2010 TONY® WINNING BEST MUSICAL
LAUNCHES U.S. NATIONAL TOUR
IN MEMPHIS, TN
PERFORMANCES BEGIN OCTOBER 14, 2011
AT THE ORPHEUM THEATRE
Called "The biggest hit on Broadway" by WOR Radio the 2010 Tony Award-winning Best Musical MEMPHIS announced casting today for the U.S. national tour of the critically acclaimed production.
The national tour of MEMPHIS will star Bryan Fenkart (Huey) and Felicia Boswell (Felicia) with Quentin Earl Darrington (Delray), Rhett George (Gator), Julie Johnson (Mama), Will Mann (Bobby), and William Parry (Mr. Simmons).
The company will also include Evan Autio, Bree Branker, Whitney Brown, Whitney Cooper, Scott Difford, Christopher Gurr, Daisy Hobbs, Crystal Joy, Kyle Leland, Jarvis McKinley, Happy McPartlin, Kenna Michelle Morris, Jill Morrison, Austin Owen, Kent Overshown, Alfie Parker Jr., Justin Prescott, Jody Reynard and Peter Matthew Smith. Additional casting will be announced at a later date.
Critically acclaimed MEMPHIS won four 2010 Tony Awards including Best Musical, Best Original Score (David Bryan and Joe DiPietro), Best Book (Joe DiPietro), and Best Orchestrations (David Bryan and Daryl Waters). MEMPHIS won four Drama Desk Awards including Outstanding Musical, Outstanding Performance by an Actress (Montego Glover), Outstanding Music (David Bryan) and Outstanding Orchestration (David Bryan and Daryl Waters). MEMPHIS has also won four Outer Critic Circle Awards including Outstanding Musical, Outstanding Score (David Bryan & Joe DiPietro), Outstanding Actress (Montego Glover) and Outstanding Choreography (Sergio Trujillo).
MEMPHIS takes place in the smoky halls and underground clubs of the segregated 50's, where a young white DJ named Huey Calhoun fell in love with everything he shouldn't: rock and roll and an electrifying black singer. MEMPHIS is an original story about the cultural revolution that erupted when his vision met her voice, and the music changed forever.
MEMPHIS opened on October 19, 2009 at Broadway's Shubert Theatre (225 W. 44th Street). Previews began on September 23rd. Michael Kuchwara of the Associated Press says MEMPHIS is "The very essence of what a Broadway show should be!" while Charles Isherwood of the New York Times says, "David Bryan evokes the powerhouse funk of James Brown, the hot guitar riffs of Chuck Berry, the smooth harmonies of the Temptations, the silken, bouncy pop of the great girl groups of the period." The New York Post raves "Of such thrills, Broadway is made," Newsday calls the show "A smash! An extraordinary show," the Daily News promises that MEMPHIS will "Blast you out the door humming and happy" and NY1's Roma Torre cheers, "MEMPHIS ROCKS!"
The show features a brand new Tony winning score with music by Bon Jovi's founding member and keyboardist David Bryan and lyrics by Bryan and Joe DiPietro (I Love You, You're Perfect, Now Change), who also pens the musical's book. Bryan and DiPietro also collaborated on the award-winning off-Broadway hit, The Toxic Avenger. MEMPHIS is based on a concept by the late George W. George (producer of the Tony nominated Bedroom Farce and the film My Dinner With Andre), with direction by Tony nominee Christopher Ashley (Xanadu) and choreography by Sergio Trujillo, who is currently represented by three shows on Broadway (Memphis, Jersey Boys and The Addams Family).
# # #
BRYAN FENKART (Huey). This is Bryan's first national tour, after covering the same role in his B'way de...