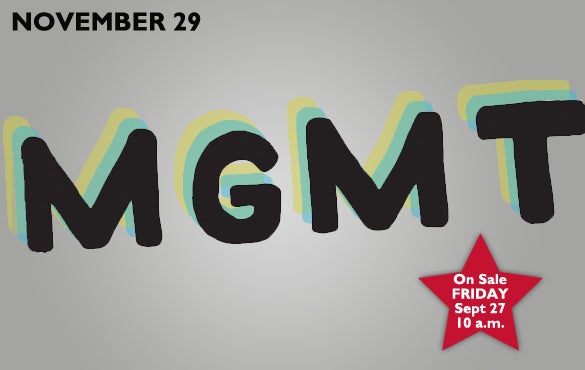 Thu,

Sep

19
MGMT Coming to DPAC on November 29 in New North American Tour
September 19, 2013 (Durham, NC) — In celebration of their new self-titled album out now, MGMT will hit the road for a North American headlining tour with a stop at DPAC, Durham Performing Arts Center, on November 29, 2013. As revealed by Jimmy Fallon during the band's performance of "Plenty of Girls in the Sea" on Late Night with Jimmy Fallon last week, the tour will conclude on December 13 with the band playing a special hometown show at Barclays Center in Brooklyn, NY. Presales will begin Friday, September 20 at 10 a.m. local time at http://www.crowdsurge.com/MGMT.
Tickets go on sale Friday, September 27 at 10 a.m.:
• Online at DPACnc.com
• DPAC Ticket Center: 919.680.2787, 123 Vivian Street, Durham, NC
• Ticketmaster.com / Ticketmaster Charge by phone at 800.745.3000
MGMT is set to launch "Cool Song No. 2," the second video from MGMT via VEVO. Written and created by director Isaiah Seret and costume designer Mindy Le Brock, and shot by award-winning cinematographer, Bradford Young, "Cool Song No. 2" depicts a fully-realized future world in which genetically engineered plants are converted into euphoria-inducing drugs. The video stars Michael Kenneth Williams (known for his legendary roles as Omar in The Wire and Chalky White in Boardwalk Empire) as The Plant Hunter and Henry Hopper as his lover, Tree, who has been mutated by the drug and is undergoing the final stage of a bizarre physical transformation. "Cool Song No. 2" can be watched here: http://smarturl.it/CoolSongVideo.
MGMT has been released this week to widespread critical praise. Under The Radar hails the album as MGMT's "most visionary and challenging album," and Filter asserts that it "contains the same ingenuity fans have come to expect. The band still holds to no precedent but its own." A collection of 10 diverse and powerful songs, the album is a result of MGMT's experimentation with various in-studio writing processes and allowing the music to tell them where it wanted to go. Time notes, "As the band has matured so has their sound and the duo is moving past their Day-Glo party soundtrack tunes to create a more grown-up synth-heavy psychedelia," and the Los Angeles Times declares that "Many [of the songs] are singalong catchy, but in their own surrealistic way." All commercial formats of MGMT include a download of the "Optimizer," an immersive audio + visual album experience. Learn more here: http://youtu.be/uDWGgQIHQho.
MGMT are Andrew VanWyngarden and Ben Goldwasser - www.whoismgmt.com.