Tue,

Oct

20
Moody Blues Tour 2010
Music Legacy Moody Blues Tour Comes to DPAC March 24, 2010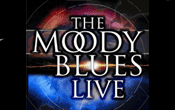 FOR IMMEIDIATE RELEASE:
MUSIC LEGACY MOODY BLUES 2010 TOUR
COMES TO DPAC March 24, 2010
Tickets On Sale Friday, December 4th at 10am
"One of the biggest strengths the band has is knowing what they do, and doing it extremely well!"
--Toronto Sun
"It all comes down to the melodies, which ranged from gorgeously seductive to simply catchy and punchy."
--St. Louis Today
Durham, NC- (October 19)- The Moody Blues – Justin Hayward, John Lodge, and Graeme Edge – carry on their magical musical legacy to generation after generation, year after year- touching people's emotions with songs about life experiences. Moody Blues comes to DPAC March 24th at 7:30pm to embark on their latest 2010 Tour.
With a legacy that spans the late 60's to present, and worldwide album sales of over 70 million, The Moody Blues have generated a legendary list of hit songs ("Nights In White Satin," "Tuesday Afternoon," "Question," "Your Wildest Dreams" and many others) that are regarded as some of the most ground-breaking and innovative music of our time. The Moody Blues' No. 1, Top 5, Top 10, Top 20, Top 40, Multi-Platinum, Platinum and Gold albums and singles, have generated sold-old tours on a consistent basis over the course of several decades, making them one of the top-grossing album and touring bands in existence.
Bob Klaus, general manager of DPAC exclaims, "This great new event adds to the DPAC legacy of presenting Legendary Classic Rock. With Jackson Browne, the Steve Miller Band, Steely Dan and others already gracing our stage, The Moody Blues is a next step in our mission to host the greatest rock bands in the world on the big stage at DPAC."
The Moody Blues – Justin Hayward, John Lodge, and Graeme Edge – carry on their magical musical legacy to generation after generation, year after year. The band's impressive live show is celebrated with the 2-CD release from Image Entertainment – LOVELY TO SEE YOU LIVE – an engaging 2005 concert recorded at Los Angeles' legendary Greek Theater, and the band's impressive body of work is chronicled with 2005's GOLD – a special 2-CD compilation.

Tickets go on-sale Friday, December 4, 2009 at 10am and can be purchased from the DPAC ticket center, 919-680-2787, or online at DPACnc.com. Ticket prices range from $Tickets are also available through Ticketmaster including all Ticketmaster outlets, which are FYE and Lowes Foods.

###