Thu,

Mar

24
Most Honored Female Country Singer Dolly Parton at DPAC
3.24.11- Dolly Parton at DPAC August 2, 2011. Tickets On Sale Friday, April 1st.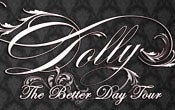 DOLLY PARTON TO RELEASE 'BETTER DAY'
ALBUM OF ALL-NEW MATERIAL AND LAUNCH WORLD TOUR THIS SUMMER

A BETTER DAY is coming. And who better than DOLLY PARTON to start spreading the news? One of the most honored female country singers of all time returns this summer with a much-anticipated album of all-new studio material--BETTER DAY (Dolly Records)-- and a world tour bringing her throughout America and then onto the U.K, Europe and Australia. The excitement gets underway when the iconic singer, songwriter, musician, actress and philanthropist unveils the album's soaring first single "Together You & I" with a live performance on "The Ellen DeGeneres Show" as the song simultaneously arrives at radio. The song's video will debut shortly thereafter.

The tour will stop at DPAC, Durham Performing Arts Center on August 2, 2011. This concert is presented in partnership with National Shows 2.

Tickets go on sale to the public beginning April 1st at 10am:
• Online at DPACnc.com
• DPAC Ticket Center: 919.680.2787, 123 Vivian Street, Durham, NC
• Ticketmaster.com / Ticketmaster Charge by phone at 800.745.3000
• Ticketmaster outlets including Crabtree Valley Mall

Tickets start at $65 plus service charges. Friends of DPAC members may place their orders on Wednesday, March 30th. Joining the Friends of DPAC is free, and you can register at www.DPACnc.com/friendofdpac. Fans should check local listings for updated tour and ticketing information.

"I wanted to do an album that would be very uplifting and positive, as well as inspirational," says the seven-time Grammy winner who was hailed as "one of our national treasures" by Newsweek in 2008. "Times are hard all over. I think people need to feel better and I thought BETTER DAY was a perfect title because it says 'hope.'" See a DOLLY Q&A below.

BETTER DAY is the follow-up to her critically acclaimed and successful Backwoods Barbie album in 2008. Featuring 12 original DOLLY compositions, the album will be released worldwide on her own Dolly Records in June or July (exact date TBA), marking the fourth release on the independent label.

The "BETTER DAY" world tour launches July 17 in Knoxville in her home state of Tennessee and will be highlighted by two shows (July 22 and 23) at the historic Hollywood Bowl in Los Angeles. Next, the tour moves overseas starting August 20and will feature a pair of shows (September 7 and 8) at the O2 Arena in London, the venue where DOLLY recorded and filmed Live From London (Dolly Records), her widely praised 2009 two-disc DVD/CD set that included songs from Backwoods Barbie alongside her many classic hits.

Backwoods Barbie spun off three singles ("Better Get To Livin,'" "Jesus & Gravity" and "Shinola") and was the first release on Dolly Records. Originally released in February 2008, the album entered the Top 200 Albums chart at #17 and at #2 on both the Country Album and Indie Album charts. This marked DOLLY's highest album debut ever on the Billboard pop albums chart, and first entry into the Top 20 since 1993's Slow Dancing With The Moon. Then, in 2009, a special Collector's Edition of Backwoods Barbie (with three new songs) entered Billboard magazine's Country Albums chart at #9, the Independent Albums Chart at #3 and the Top 200 Albums chart at #40.

In 2008, DOLLY achieved accolades for what was her most successful European tour of her 40-plus year career, where she performed 17 shows to over 170,000 fans, surpassing her then-best 2007 European tour, where she played 21 shows for over 140,000 people. Each of these treks grossed in the tens of millions of dollars and established DOLLY as Europe&...