Fri,

May

14
Natalie Merchant Comes to DPAC
5.14.10- Natalie Merchant Comes to DPAC August 30th. Tickets On Sale Friday, May 21st at 10am.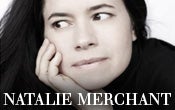 DURHAM, NC- Singer and songwriter Natalie Merchant to perform at DPAC, the new Durham Performing Arts Center on August 30, 2010 at 8:00pm. The seven-week tour will be Merchant's first major outing in seven years. She and her eight-piece band will perform new material as well as favorites from throughout her career.
Ticket prices start at $28 plus service charges. Friends of DPAC members may place their orders on Thursday, May 20th and tickets go on sale to the general public on Friday, May 21st at 10am, through Ticketmaster outlets including Crabtree Valley Mall, FYE and Lowes Foods, online at dpacnc.com and through the DPAC Call Center (919.680.2787). Joining the Friends of DPAC is free and you can register at www.DPACnc.com/friendofdpac.
"Natalie Merchant has sold millions of records of albums and has one of the most distinctive voices in music. We're excited to host another of America's great singer-songwriters and something tells me this could be one of DPAC's best shows ever," said Bob Klaus, GM.

Over her twenty-eight year career Natalie Merchant has earned a place among America's most respected recording artists with a reputation for being a gifted songwriter and a captivating performer. After rising to fame at the helm of the popular folk-rock band 10,000 Maniacs, she enjoyed even greater success as a solo artist during the mid-'90s. Her self-produced debut album, Tigerlily (1995), sold an astonishing five million copies in the U.S. alone. Her literate, socially conscious songs established her among the preeminent women in pop music.

After the birth of her daughter in 2003, Merchant took an extended break from recording and touring. During this time, Merchant has been researching, writing and recording a collection of songs adapted from the works of various classic and contemporary poets. This project, entitled Leave Your Sleep, is her first studio album in seven years and was released in April.
Leave Your Sleep, out now on Nonesuch Records, has received critical acclaim with Entertainment Weekly praising its "gorgeous arrangements of dreamy chamber folk," The Daily Beast calling it "soothing and electric," and the BBC citing its "sheer ravishing beauty." The dates follow a series of high profile appearances, including "Good Morning America," "The Tonight Show with Jay Leno" and NPR's "Morning Edition," as well as a performance at the annual TED (Technology, Entertainment, Design) Conference in February.
A prominent social activist, Merchant effectively campaigns in the name of animal rights, domestic violence, and homelessness lending both financial support and raising public awareness. For more information, please go to www.nataliemerchant.com.
What's up next? DPAC's next exciting events are America's favorite band with horns, Chicago (May 18th) and back by popular demand The Color Purple (May 25 – 30). For more information about more upcoming DPAC events, please go to www.dpacnc.com.