Thu,

Aug

12
NORAH JONES SELLS OUT DPAC
8.16.10- Norah Jones Sells Out DPAC.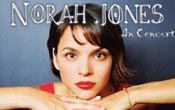 Durham Performing Arts Center Welcomes their 88 Sold Out Performance
DURHAM, NC- August 11, 2010- the new Durham Performing Arts Center continues its winning streak as DPAC is once again filled to capacity during the latest addition of the Cool Summer Nights at DPAC concert series.
"That was one of our most anticipated concerts of the year. It's exciting to see the great response for not only this show but all of the shows in the Cool Summer Nights at DPAC concert series. Our goal to have something for everyone has quickly grown to a year round mission," said Bob Klaus, GM of DPAC.
This marked the 88th sold out performance for DPAC since it's inception in 2008 and is the 2nd this season following Ringo Starr and his All Starr Band this past July. Other sold out performances have included Broadway's finest- Hairspray and Wicked; and such legendary performers from almost every genre including Vince Gill, Maze featuring Frankie Beverly, Celtic Woman, Harry Connick Jr. and his Orchestra, The Moody Blues, Wilco, Experience Hendrix, David Gray, and Chicago.
Multiple Grammy Award-winning, singer and songwriter Norah Jones delighted fans during her sold out performance on Sunday. Playing her old standards from her previous three releases, Come Away With Me (2002), Feels Like Home (2004) and Not Too Late (2007), which have sold a combined 36 million copies worldwide and incorporating new additions from her latest release The Fall which was released this past April. She took the stage after her opening act- Elvis Perkins and looked as stunning as her performance- overall a flawless, beautiful, and memorable performance.
What's up next? DPAC's next exciting events include Lyle Lovett and his Large Band (August 18) and Natalie Merchant (August 30). For more information about these and more upcoming events, please go to www.dpacnc.com.

####