Thu,

Apr

29
Paula Deen Live! Comes to DPAC
4.29.10- Paula Deen Live! Comes to DPAC on Saturday, Jun e5th at 3pm. Tickets on sale Monday, May 3rd at 10am.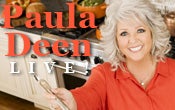 DURHAM, NC- "Paula Deen Live!" comes to DPAC, the new Durham Performing Arts Center on Saturday, June 5, 2010, for one afternoon performance at 3pm.
Tickets go on sale Monday, May 3 at 10am. Tickets can be purchased at the DPAC Ticket Center, 919.680.2787, and online at DPACnc.com. Tickets are also available through Ticketmaster outlets: Crabtree Valley Mall, FYE and Lowes Foods.
Due to the overwhelming demand DPAC has secured the opening date of Paula Deen's brand new tour. Patrons who still have tickets for the cancelled February shows will receive the option to secure tickets to this new show and are asked to email [email protected] for more details.
The unrivalled queen of Southern Cuisine- Paula Deen, a nationally renowned restaurateur, television chef and cookbook author, is known for her "down-home" personality and traditional southern cooking. She has authored thirteen books, publishes the magazine Cooking with Paula Deen and stars in two TV shows, Paula's Home Cooking and Paula's Party on the Food Network.
What's up next? DPAC's next event the much anticipated Broadway smash hit Wicked (April 21 – May 16), America's favorite band with horns Chicago (May 18th) and back by popular demand The Color Purple (May 25 – 30). For more information about more upcoming DPAC events, please go to www.dpacnc.com.