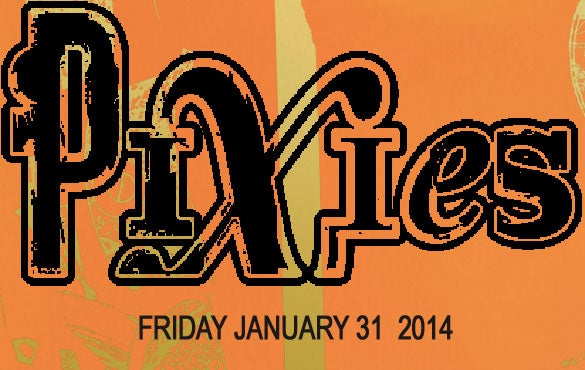 Mon,

Oct

7
Pixies to Play DPAC January 31
October 7, 2013 (Durham, NC) – Fortified with eight instantly-sold-out U.S. club shows, a sold-out UK/European tour, and critical and fan acclaim for the live shows and five brand-new songs, Pixies announce that a 33-city, coast-to-coast North American leg has been added to its 2013-2014 world tour and will kick off in Toronto, Canada on January 15, 2014. Pixies with special guests Cults will play DPAC, Durham Performing Arts Center, on Friday, January 31, 2014.
Tickets go on sale Friday, October 11 at 10 a.m.:
• Online at DPACnc.com
• DPAC Ticket Center: 919.680.2787, 123 Vivian Street, Durham, NC
• Ticketmaster.com / Ticketmaster Charge by phone at 800.745.3000
"…there's no denying Pixies' superlative live impact. Deal or no Deal." – Guardian UK
Pixies – Black Francis/guitars, vocals, Joey Santiago/guitars, drummer David Lovering, and touring bassist Kim Shattuck – are on the road in support of the band's first collection of new music in more than 20 years that began with the surprise release of the single "Bagboy" on June 28. That was followed by the four-track EP-1 that came out of the blue on September 3. "Andro Queen," the melancholy, surrealistic sci-fi ballad that opens EP-1, is the project's brand-new music video, and now available at www.pixiesmusic.com
"Andro Queen" was conceived and directed by filmmaker Ondi Timoner through her Interloper Films production company. Timoner won the Grand Jury Prize for Documentary Features at the Sundance Film Festival twice and has work permanently displayed at New York's Museum of Modern Art. She also produced and directed the original VH-1 series "Sound Effects," and directed the opening film for President Clinton's 2011 birthday/fundraiser held at the Hollywood Bowl that featured Steven Spielberg, Barbra Streisand, Jay-Z, and the President, among others. Timoner is the founder and director of web-channel "A Total Disruption" that features the work of cutting-edge innovators and entrepreneurs who use technology to transform lives, our economy and where we're headed.
"The new numbers more than held their own…Four stars" – The Times of London
All of the Pixies dates on this tour will feature a brand new stage set and production, and will give the band an opportunity to not only debut brand new Pixies songs, but to offer the most wide-ranging concert set lists of Pixies music in the band's career. As Black Francis told The Daily Beast, "I'm happy that we have new songs to play because playing only the old songs…you've already proven that. You can try to do it better, but you're not really proving anything to anyone except that you can still do it."
"The Pixies brought just enough to the Bowery stage to remind devoted fans that their songwriting chops have hardly wavered and that the best may be yet to come." – Village Voice