Wed,

Dec

2
Platinum Award Winning Artist David Gray at DPAC April 9, 2010
Platinum Award Winning Artist of the #1 Hit "Babylon" David Gray Makes DPAC His Only NC Tour Stop on April 9, 2010. Tickets on Sale December 11th at 10am.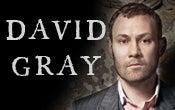 FOR IMMEDIATE RELEASE
With Over 12 Million Albums Sold Worldwide...
Tickets on sale next Friday, Dec. 11th at 10am

DURHAM, N.C. – DEC. 2– On the heels of completing the first leg of his sold out U.S. tour earlier this November, platinum award winning artist and singer-songwriter of the #1 hit "Babylon," David Gray has announced his highly anticipated second leg of dates, which will include a stop at DPAC, Durham Performing Arts Center, on Friday, April 9th at 8 p.m. in support of his acclaimed 8th studio album, Draw The Line (Downtown/Mercer Street Records). Tickets go on sale next Friday, Dec. 11th, and can be purchased online at DPACnc.com, at the DPAC ticket center, by calling 919.680.2787, or at any Ticketmaster outlet. Ticket prices range from $25 to $60.
Following the album's U.S. release on September 22nd, David Gray launched his world tour playing across Europe and Australia before setting out on his North American tour in October including the Orlando Hard Rock Live, New Orleans Mahalia Jackson Theatre, Dallas Nokia Theatre, and DPAC!
The dates notably included the singer performing his debut single "Fugitive" on several television programs, including Live with Regis and Kelly, The Rachael Ray Show, The Late Late Show with Craig Ferguson and Last Call with Carson Daly. Gray recently returned to London for the launch of "Full Steam," one of the album's standout duets that features Annie Lennox.
"Having just celebrated our one year anniversary here at DPAC, announcing the much-admired artist David Gray is another great step in establishing DPAC as one of the top theater for national concert tours," states general manager of DPAC Bob Klaus.
Prior to the kick off of the second leg of his US tour, the singer will be making a series of special appearances including a special show at Atlantic City's Ceaser's Palace on New Year's Eve and a performance on The Late Show with David Letterman on January 4th.
His most captivating work to date, Draw The Line is the rich, warm, organic sound of David Gray reborn and starts a new chapter in the storytelling for which he is known. Recorded in London, and produced by the artist himself, Gray began writing the album in 2007 and the result is a glorious, life-affirming collection, brimming with hooks and imagery that feed the soul and, courtesy of guest vocal turns from Jolie Holland and Annie Lennox, two fantastic duets. USA Today proclaimed Draw The Line was "some of his most ambitious, affecting and densely musical work to date" while Entertainment Weekly stated, "Let me speak for all of us and say: Welcome back! Gray's sincerity and robust voice have been missed, and his new music sounds well-produced and confident."