Wed,

Oct

21
Princess Katie and Racer Steve
The Ultimate Kid Rockstar Band Princess Katie and Racer Steve Come to DPAC February 6, 2010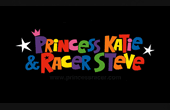 On Sale Friday, October 30, 2009 at 10am
Princess Katie & Racer Steve are far more than simply bearable for parents -- you'll probably love them as much as your kids do…. Racer Steve rocks a guitar like the big boys.
- America Online
"Katie and her talented band will win your kids over, even if they usually resist anything
princess ... Katie's earthy voice is a dead ringer for Natalie Merchant's."
- Parenting Magazine
"Don't be fooled by the appearance of these cartoon characters come to life: This is one kids' band that really knows how to rock ... these guys are a serious rock-and-roll band--one that wouldn't sound out of place opening for any current chart topper."
- COOKIE magazine

Durham, NC – October 19th – Princess Katie and Racer Steve are 'Revved Up & Ready to Rock' at DPAC. They are roaring down a kids' rock & roll speedway and bringing you the ultimate kids' extravaganza! They will make their North Carolina debut with a rock concert for kids and their parental units performing 2 shows at 11:30am and 3:30pm on Saturday, February 6th at DPAC, located in The American Tobacco District. Tickets go On-Sale Friday, October 30th at 10 am ranging from $10- $15, and can be purchased at the DPAC ticket center, 919.680.2787, and online at DPACnc.com. Tickets are also available through Ticketmaster including all Ticketmaster outlets, which are FYE and Lowes Foods.
"We're excited to be hosting another fantastic family event at DPAC," exclaims Bob Klaus, General Manager of DPAC. "Hot on the heels of Disney Imagination Movers sellout and our just announced Disney's Playhouse coming in April, Triangle audiences can count on DPAC for great live entertainment for the whole family."
The NYC-based band is known as much for its creative energy, daring innovations, and positive spirit as for its terrific music. Kids are encouraged to join Princess Katie, Racer Steve, Space on Bass, and Crash the Drummer in rocking out to "music with a message that hasn't lost its cool." The high-energy show will feature tunes from Princess Katie & Racer Steve's critically acclaimed albums, 'Songs for the Coolest Kids,' 'Fast & Feisty,' and the brand new 3rd album 'Tiny Cool' offering contemporary takes on popular music sounds ranging from jazz and swing to neo-Latin and electric rock 'n' roll to rap, West Indian, folk, country, and 12-bar blues. Princess Katie & Racer Steve use cool music, hip lyrics and zany skits to bring home messages about cultural acceptance, winning, losing, sharing, bullying, making friends, kindness, fairness, sibling appreciation, world peace, and just plain having fun being a kid.
Spontaneity and surprise are key to Princess Katie & Racer Steve's shows. You never know what they'll dream up. Princess Katie (aka Katie O'Sullivan) says, "I just can't seem to do a show unless it's special for the kids!" She often brings her giant prize wheel and spins it to choose songs or activities like "Conga" or "Freeze Dance." Princess Katie & Racer Steve might throw out inflatable soccer balls or surprise the kids with a confetti or Mylar steamer launch. Sometimes they'll hand out mini racing flags so kids can wave them every time they hear, "Go, Go, Go" in a song about Racer Steve's car racing. They'll wear "funk hats" and sunglasses for their "Hey Claire" funk song, and for "Sneakers," Katie has GIANT sneakers to wear under her princess dress.
Says Racer Steve (aka Steve Borne), "We're really workin...