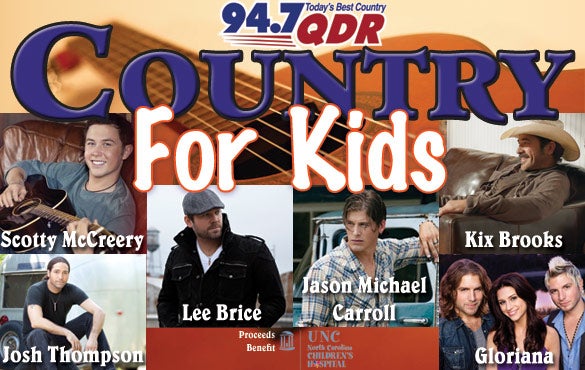 Tue,

Sep

18
QDR COUNTRY FOR KIDS CONCERT to Benefit N.C. Children's Hospital
SEPTEMBER 18, 2012 (Durham, NC) – Curtis Media Group announced today the addition of a charity concert, dubbed "Country for Kids," to the eleventh annual N.C. Children's Promise Radiothon/Telethon. Tickets for the concert—being held at 7:00 p.m. on Tuesday, November 27, 2012 at DPAC, Durham Performing Arts Center—go on sale this Friday, Sept 21 at 10 a.m., with proceeds benefiting North Carolina Children's Hospital.
Presented by 94.7 QDR, Country for Kids will feature live performances from six artists: Kix Brooks, Scotty McCreery, Josh Thompson, Lee Brice, Gloriana and Jason Michael Carroll. The concert event will be the celebratory culminations of a day full of miraculous stories being broadcast live from the N.C. Children's Hospital lobby on nearly 20 Curtis Media Group radio stations and Time Warner Cable's News 14 Carolina as part of the N.C. Children's Promise Radiothon/Telethon, UNC Health Care's largest fundraising event each year.
Tickets to QDR Country for Kids start at $50 and will be available for purchase through Ticketmaster.com, DPACnc.com or 919-680-2787. Limited VIP packages are also available for a premium price and will include choice seating in front of the stage and a pre-concert reception with various performers from the evening. Please contact the N.C. Children's Promise office at 919-843-3948 for additional information or to purchase a package.
Tickets go on sale Friday, September 21 at 10am:
• Online at DPACnc.com
• DPAC Ticket Center: 919.680.2787, 123 Vivian Street, Durham, NC
• Ticketmaster.com / Ticketmaster Charge by phone at 800.745.3000
ABOUT NORTH CAROLINA CHILDREN'S HOSPITAL
North Carolina Children's Hospital protects the health and well-being of North Carolina's 2.1 million children by aligning premier health care practitioners, world-class medical education, and innovative, interdisciplinary research to provide the highest-quality, family-centered care, regardless of a family's ability to pay. As a major referral center for children with complex and chronic conditions, N.C. Children's Hospital works hand-in-hand with community hospitals and pediatricians across the state, providing specialty care to more than 70,000 children from all 100 counties each year.
N.C. Children's Hospital offers complete pediatric inpatient and outpatient care in its 150-bed state-of-the-art facility at UNC Hospitals in Chapel Hill and at more than 25 satellite outpatient clinics throughout North Carolina. The Children's Hospital's world-class physicians, nurses and other clinical staff represent all pediatric subspecialties and are capable of treating children with virtually any disease or disorder. For more information, please visit www.ncchildrenshospital.org.
ABOUT UNC HEALTH CARE
The UNC Health Care System is a not-for-profit integrated health care system owned by the state of North Carolina and based in Chapel Hill. It exists to further the teaching mission of the University of North Carolina and to provide state-of-the-art patient care. UNC Health Care is comprised of UNC Hospitals, ranked consistently among the best medical centers in the country; the UNC School of Medicine, a nationally eminent research institution; community practices; home health and hospice services in seven central North Carolina counties; Pardee Hospital in Hendersonville, N.C.; Chatham Hospital in Siler City, N.C.; and Rex Healthcare and its provider network in Wake County.