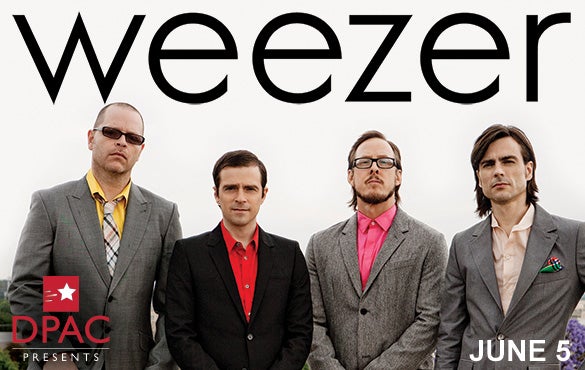 Mon,

Jan

6
Rare Theater Experience with Weezer at DPAC on June 5
January 6, 2014 (Durham, NC) – Grammy®-winning American rockers Weezer are coming to DPAC, Durham Performing Arts Center, on June 5, 2014. Weezer has sold over 10 million records and has played thousands of shows across the world. Don't miss this rare Triangle appearance.
Tickets go on sale Friday, January 10 at 10 a.m.:
• Online at DPACnc.com
• DPAC Ticket Center: 919.680.2787, 123 Vivian Street, Durham, NC
• Ticketmaster.com / Ticketmaster Charge by phone at 800.745.3000
Friends of DPAC members may place their orders on January 9. Joining Friends of DPAC is free, and you can register at http://www.dpacnc.com/fod.
To date, Weezer has released nine full-length albums, six EPs, and a DVD.
Their debut album Weezer (aka "The Blue Album"), producer by Ric Ocasek, has been certified triple platinum in the United States, and remains the band's all-time best seller. With help from the Spike Jonze-directed video, the single "Undone (The Sweater Song)" became a hit in the fall of 1994.
Weezer's much-anticipated second LP Pinkerton was released in 1996. The band's talent and style had matured considerably. Pinkerton eventually went gold in record sales and has been a steady seller since. 2001's Weezer (aka "The Green Album") debuted at #4 on the Billboard 200 and has since sold more than one million copies in the United States. Songs like "Hash Pipe" and "Island in the Sun" became radio and MTV staples.
The band followed that success with Maladroit, which was released in 2002, reached #3 on the Billboard 200, and was certified gold. The band returned to the studio again to work with Rick Rubin on their fifth full-length album. Make Believe appeared in May 2005 and eventually went platinum in multiple countries, hitting #1 in Canada and #2 in the U.S. The Top 10 single "Beverly Hills" earned the band their first Grammy® nomination for Best Rock Song.
2008's Weezer featured the single "Pork and Beans" topped the Billboard Modern Rock Tracks charts; its music video won a Grammy® for Best Short Form Music Video. One year later, Raditude found the band collaborating with hip-hop producer Jermaine Dupri and rapper Lil Wayne.
Weezer jumped from Geffen to independent label Epitaph in 2010, debuting Hurley at #6 on the Billboard 200 to make it the band's sixth top 10 album in a row. The new album was quickly followed by two additional releases: an expanded deluxe edition of Pinkerton and Death to False Metal. The band then took to the road to play Pinkerton and their eponymous debut "Blue Album" in their entirety.