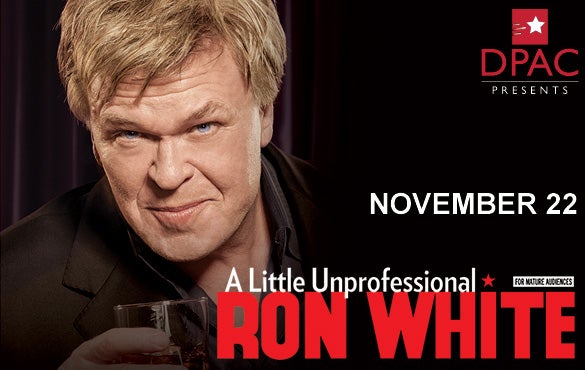 Mon,

Apr

15
Blue Collar's Ron White Returns to DPAC on November 22
April 15, 2013 (Durham, NC) — Back by popular demand, "Blue Collar" comedian Ron White returns to DPAC, Durham Performing Arts Center, on November 22, 2013. His last performance at DPAC on September 10, 2011 sold out, and fans can expect this performance to do the same.
Tickets go on sale Friday, April 19 at 10am:
• Online at DPACnc.com
• DPAC Ticket Center: 919.680.2787, 123 Vivian Street, Durham, NC
• Ticketmaster.com / Ticketmaster Charge by phone at 800.745.3000
Friends of DPAC members may place their orders on April 17. Joining Friends of DPAC is free, and you can register at http://www.dpacnc.com/fod.
"Every season we present ten to twelve of the biggest comediennes on tour and no one is selling more tickets right now than Ron White. For Ron to choose DPAC for his 2013 tour speaks to the reputation of both DPAC and the great comedy audiences here in the Triangle. I've said it before, Triangle audiences love to laugh and there's no better place for stand-up comedy than DPAC," said Bob Klaus, GM of DPAC.
Comedian Ron "Tater Salad" White is best known as the cigar-smoking, scotch-drinking funnyman from the "Blue Collar Comedy" phenomenon. White has always been a classic storyteller. His routines relay tales from his real life, ranging from growing up in a small town in Texas to joining the ranks of some of the most successful comedians in America.
He is a certified platinum-selling artist, having sold over 10 million #1 albums; White has been nominated for two Grammy® Awards, and he has consistently been one of the five top-grossing comedians on tour. White's three Comedy Central stand-up specials are the three top-rated specials in that network's history.
White has been featured in the major feature films Horrible Bosses and Sex and the City 2 and has a principal role in Jayne Mansfield's Car, written and directed by Billy Bob Thornton, which premiered at the Berlin Film Festival in February 2012.
For more information, please visit www.tatersalad.com.