Fri,

June

10
SIXTH ANNUAL TRIANGLE RISING STARS WINNERS ANNOUNCED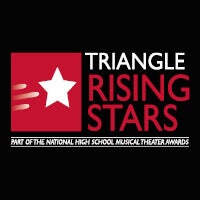 Along with Theatre in the Park, Playmakers Repertory Company and ABC 11, DPAC hosted this year's Triangle Rising Stars Awards onstage on Monday evening, June 6. The Triangle Rising Star Awards (TRS) is a program that brings together area high school musical theater students to perform together and compete against one another for educational scholarships. Last year's winners, Faith Jones and Alex Fernandez, presented the awards for Best Actress and Best Actor, while awards were also given for Best Ensemble and Best Musical.

WINNERS:
Best Actress: Ainsley Seiger (Apex High School, The Addams Family)
Best Actor: Jacob Bush (Green Hope High School, Chicago)
Best Ensemble: Grease – Cary High School
Best Musical: Into the Woods – Enloe High School

"Getting to perform at DPAC was amazing enough," explains Best Actor winner, Jacob Bush, "but winning Triangle Rising Star was unimaginable! When my name was called, I was so stunned that I forgot I had to walk forward and make a speech. I am so honored and excited to represent DPAC at the Jimmy Awards in NYC!" Best Actress winner, Ainsley Seiger, was equally excited to play on the DPAC stage and can't wait to do it again at the Jimmy Awards saying "I still can't believe that it's real to be honest. I can't wait for New York!"
Honorable mentions were also given to schools that had standout productions in areas of scenic design, orchestra, costume design and choreography:
SPECIAL RECOGNITION AWARDS:

Scenic Design:
Cresset Christian Academy, Les Mis
East Chapel Hill High School, Beauty & The Beast
Riverside High School, Once Upon a Mattress
Sanderson High School, Pippin
St. Thomas More Academy, In The Heights
Orchestra:
Apex High School, The Addams Family
Eastern Alamance High School, The Wizard of Oz
Green Hope High School, Chicago
Millbrook High School, Annie Get Your Gun
Northwood High School, The Wedding Singer
Panther Creek High School, Mary Poppins
Costume Design:
Athens Drive High School, Thoroughly Modern Millie
Fuquay Varina High School, Shrek
Ravenscroft School, Once Upon a Mattress
Southeast Raleigh High School, Into The Woods
Wake Forest High School, Happy Days: A New Musical
Choreography:
Broughton High School, High School Musical
Cary High School, Grease
Clayton High School, Once on This Island
Hillside High School, Fame
Jordan-Matthews High School, Footloose
Voyager Academy, The Wiz
Directed and choreographed by Freddie-Lee Heath, nearly 1,200 patrons witnessed the 20 finalists open with "Seize the Day" (Newsies). Diane Petteway, Music Director and Arranger, led a full band to accompany the student performances. In a Broadway medley, each student had their own chance to shine in solo performances from their individual high school musicals. After awards were presented, the entire cast of finalists closed out the evening with a moving rendition of "Seasons of Love" (Rent).
The Triangle Rising Stars Awards is a member of The National High School Musical Theater Awards (NHSMTA), a national program that unites high school musical theater awards programs from across the country under one roof. The two student winners are provided with $1,000 academic scholarships along with an invitation to represent TRS in an all-expense paid trip to the National High School Musical Theater Awards in New York City for one week, June 19 – June 28, 2016. The students will train with real Broadway actors, directors and producers. Their week of coaching, auditions and rehearsals will conclude with each student's life-long dream at the Minskoff Theatre on Broadway. At which, a panel of judges will choose two students for the coveted Jimmy™ Awards for Best Performance by an Actor and Best Performance by an Actress.
The Best Actor and Best Actress were awarded on Monday night after the audition process began this past fall. Representatives from DPAC, Theatre in the Park, Playmakers Repertory Company and ABC 11 attended high school musicals from area counties, including: Chatham, Durham, Orange and Wake Counties. Over 80 applicants auditioned for the program, which was narrowed down to 20 finalists, including 10 women and 10 men.