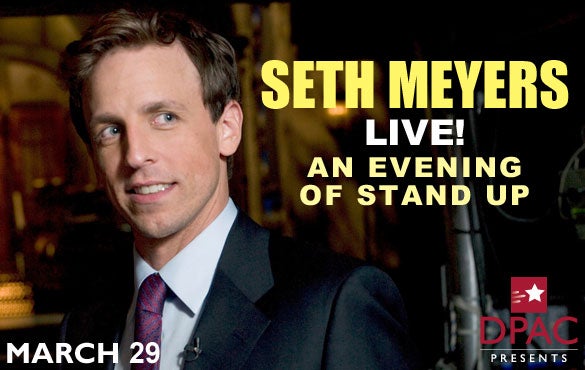 Fri,

Feb

8
SNL's Seth Meyers Coming to DPAC on March 29
FEBRUARY 8, 2013 (Durham, NC) — SNL's Seth Meyers will bring an evening of stand-up comedy to the stage of DPAC, Durham Performing Arts Center, on March 29, 2013.
Tickets go on sale Friday, February 15 at 10am:
• Online at DPACnc.com
• DPAC Ticket Center: 919.680.2787, 123 Vivian Street, Durham, NC
• Ticketmaster.com / Ticketmaster Charge by phone at 800.745.3000
Friends of DPAC members may place their orders on February 13. Joining Friends of DPAC is free, and you can register at http://www.dpacnc.com/fod.
"There is no better place to laugh all night than at DPAC this spring. And with the addition of SNL's Seth Meyers, audiences will share in poking fun at our favorite elements of modern culture and current events. Comedy shows at DPAC give fans the opportunity to see their favorite comics up close and personal, while still feeling like they are in the comfort of their own living rooms," said Emily McLoughlin, Marketing Director for Concerts and Comedy at DPAC.
Seth Meyers returns for his eleventh season on Saturday Night Live as a cast member and his sixth season as both head writer and "Weekend Update" anchor. In 2011, Meyers won the Emmy® for Outstanding Original Music and Lyrics for host Justin Timberlake's musical monologue. He was nominated in the same category in 2012 for host Jason Segel's monologue song. Meyers has also garnered five additional Emmy® nominations for his work as a writer on SNL and the 2011 special The Real Women of SNL.
As the sole "Weekend Update" anchor, Meyers charms audiences as he lampoons top news stories and entertains fan favorite guests including the outlandish and über-trendy correspondent "Stefon" (Bill Hader), as well as the perpetually ill-prepared singing duo "Garth and Kat" (Fred Arnisen and Kristen Wiig). Before focusing his attention solely on "Update," Meyers was a regular player in sketches, performing numerous characters.
A graduate of Northwestern University, he studied and performed at ImprovOlympic (where many SNL cast members and writers got their start) before moving on to the Boom Chicago Theater in Amsterdam, Holland. His acclaimed show Pick-ups and Hiccups with partner Jill Benjamin toured Europe and eventually caught the eye of SNL.
Meyers returned to host the 2011 ESPY Awards on ESPN and headlined the 2011 White House Correspondents' Association Dinner to rave reviews.