Mon,

Mar

7
STEELY DAN COMING TO DURHAM ON AUGUST 4
3.7.11- STEELY DAN COMING TO DURHAM ON AUGUST 4. ON SALE FRIDAY, MARCH 18 AT 10AM.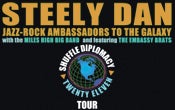 DURHAM, NC – Rock & Roll Hall of Famers Steely Dan dazzled the public and critics alike in 2009 with their classic-albums-in-full Rent Party tour. Now the band is responding to overwhelming popular demand and returning to the road to give fans more Steely Dan action. Greatest hits and deep cuts alike will be showcased at DPAC, Durham Performing Arts Center on August 4, 2011.
For the show, Donald Fagen and Walter Becker are back with their awesome group of players including Keith Carlock (drums); Jon Herington (guitar); Freddie Washington (bass); Jim Beard (keys); Michael Leonhart, Walt Weiskopf, Roger Rosenberg and Jim Pugh (horns); plus background singers Carolyn Leonhart, Cindy Mizelle, and Catherine Russell.
Tickets go on sale to the public beginning March 18th at 10am:
• Online at DPACnc.com
• DPAC Ticket Center: 919.680.2787, 123 Vivian Street, Durham, NC
• Ticketmaster.com / Ticketmaster Charge by phone at 800.745.3000
• Ticketmaster outlets including Crabtree Valley Mall
Tickets start at $65.00 plus service charges. Friends of DPAC members may place their orders on Wednesday, March 16th. Joining the Friends of DPAC is free, and you can register at www.DPACnc.com/friendofdpac. Fans should check local listings for updated tour and ticketing information.
Steely Dan has sold more than 30 million albums worldwide and helped define the soundtrack of the '70s with hits including "Do It Again," "Reelin' in the Years," "Bodhisattva," "Rikki Don't Lose That Number," "F.M.," "Peg," "Deacon Blues," "Hey Nineteen" and "Babylon Sisters." They reunited in the early '90s and have toured throughout the decade and beyond, releasing multi-Grammy winner Two Against Nature in 2000 and its acclaimed follow-up Everything Must Go in 2003. They were inducted into the Rock and Roll Hall of Fame in 2001.
Critics raved about the performances on the Rent Party 2009 tour, with the New York Times stating that Fagen "was deep in the music… a cross between Count Basie and Ray Charles." The Chicago Sun-Times proclaimed: "This was different. This was live. This was vibrant. This was a cascade of color carried along by Fagen, Becker, eight brilliant supporting musicians and three superb backing vocalists." The Los Angeles Times raved: "Everyone gathered Friday evening was a believer – and they were treated to something close to rapture."
Visit www.steelydan.com for updates, details, and further developments.
###