Tue,

Nov

30
Steve Martin with The Steep Canyon Rangers
11.30.10- Steve Martin with The Steep Canyon Rangers on May 21, 2011. Tickets on Sale Friday, December 10th at 10am.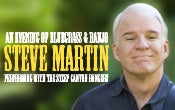 DURHAM, NC– Emmy, Grammy and American Comedy winner Steve Martin to join North Carolina's own Steep Canyon Rangers for a rare performance at DPAC, Durham Performing Arts Center on May 21, 2011.
"There is no one in modern memory with the portfolio of Steve Martin, and he's a perfect example of DPAC's mission- to bring unique, one-of-a-kind live entertainment events to Triangle audiences. He's well known as an actor, comedian, author, playwright, producer, art collector, and musician- a true Jack of all Trades in the entertainment world. We're happy to host him displaying his musical talents alongside Steep Canyon Rangers, a bluegrass force with local roots and national prominence" said Bob Klaus, GM of DPAC.
Tickets start at $42.00 plus service charges. Friends of DPAC members may place their orders on Wednesday, December 8th and tickets go on sale Friday, December 10th at 10am, through Ticketmaster outlets including Crabtree Valley Mall, online at DPACnc.com and charge by phone at 800-745-3000. Joining the Friends of DPAC is free, and you can register at www.DPACnc.com/friendofdpac.

Steve Martin, one of the most diversified performers in the motion picture industry today has been successful as a writer and performer in some of the most popular movies of recent film history Since becoming involved in the modern bluegrass scene, Martin has been impressed with the overall level of musicianship that exists in the world of the professional and semi-professional players. As such, in 2010, Martin established The Steve Martin Prize for Excellence in Banjo and Bluegrass, an annual award which brings recognition to an individual or group for outstanding accomplishment in the field of five-string banjo or bluegrass music. In its inaugural year, the award was presented to Noam Pikelny.

On January 31st, 2010 Steve Martin's banjo album, The Crow / New Songs For The Five-String Banjo, won a Grammy for Best Bluegrass Album. His new album will be released in March titled, Rare Bird Alert on Rounder Records.

Martin's latest novel An Object of Beauty was released on November 23rd 2010. Sharing his knowledge of the 1990's New York arts scene, Martin tells the story of Lacey Yeager, a young, captivating, and ambitious young woman who takes the NYC art world by storm.
Earlier this year, Martin completed production on The Big Year directed by David Frankel and costarring Owen Wilson and Jack Black. The comedy is set to be released by 20th Century Fox in 2011, and sees Martin as a member of a group of avid bird watchers competing to spot the rarest birds in North America at an annual esteemed event.
In March of 2010, Martin, along with Alec Baldwin, co-hosted the 82nd Annual Academy Awards – his third time serving as host of the prestigious award show. He received an Emmy nomination in the category of Outstanding Writing for a Variety, Music or Comedy Special for his participation. Please visit www.stevemartin.com for further information.

The Steep Canyon Rangers latest record, Deep In The Shade, stayed on the Billboard Bluegrass Top Ten for 18 weeks. Along with Steve they have headlined Merlefest and Bonaroo, and appeared on Late Night With David Letterman and Austin City Limits. Known for their smooth vocals, smart songwriting, ferocious instruments and jaw-dropping harmony, the Rangers are bringing bluegrass to music lovers across the USA and around the world.
A true band of brothers, the Steep Canyon Rangers have developed from college picking buddies in Chapel Hill, NC to one of the premier acoustic ensembles of the day. For the last ten years they have dedicated themselves to creating a new and powerful brand of bluegrass that is distinctly their own.
The Rangers have shown a willingness to take bluegrass beyond it's traditional borders, pe...