Mon,

May

11
Steve Miller Band On-Sale
Steve Miller Band On Sale Friday, May 15th at 10am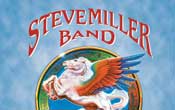 For Immediate Release
STEVE MILLER BAND COMES TO DPAC
FRIDAY, NOVEMBER 13, 2009 AT DURHAM PERFORMING ARTS CENTER

Tickets On Sale Friday May 15, 2009 at 10am
Durham, NC –May 11, 2009– The legendary Steve Miller Band has announced their tour for Friday, November 13, 2009 at the Durham Performing Arts Center. Tickets will go on sale Friday, May 15th at 10am. Visit SteveMillerBand.com for more information.
Ticket prices to see the rock legend range from $48.00-$88.00. Tickets can be purchased at the DPAC box office, 919.680.2787, and online at DPACnc.com. Tickets are also available through Ticketmaster including all Ticketmaster outlets which are FYE and Lowes Foods.
With songs such as "Take the Money and Run," "Rockin' Me," "Jet Airliner," "The Joker," "Fly Like An Eagle," "Livin' in the USA" and "Abracadabra" to his credit, blues/rock singer-songwriter-guitarist Steve Miller is one of the cornerstones of classic rock. Born on October 5, 1943 in Milwaukee, WI, he grew up in a home frequented by musicians such as Charles Mingus, Les Paul and TBone Walker. Miller formed his first band at age 12 with friend Boz Scaggs. After stints in Madison, WI and Chicago, IL blues bands, he moved to San Francisco in 1966.
The Steve Miller Band (known initially as the Steve Miller Blues Band) emerged from San Francisco's summer of love with a sound that was distinctively different from its peers. Forty years hence, the band has sold a cumulative 25 million records and is still a mainstay of the summer concert season – as fresh and vibrant as ever, melding rock, blues, jazz and pop in its own inimitable, improvisational style and attracting a fervent, multi-generational following.
DPAC is thrilled to be your new home for world class entertainment in the triangle. DPAC continues to offers state of the art sound, fantastic sightlines, and 50+ incredible shows during this remarkable first season. Still to come in the DPAC premiere year Steely Dan, Loggins & Messina, and on sale now the 2009/2010 SunTrust Broadway Series including blockbuster hit WICKED!