Mon,

May

2
TEDESCHI TRUCKS BAND COMING TO DPAC
5.2.11- TEDESCHI TRUCKS BAND COMING JUNE 12, 2011. ON SALE SATURDAY MAY 7TH AT NOON.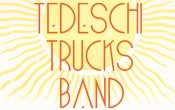 (Durham, NC) —Husband and wife team of Derek Trucks and Susan Tedeschi bring their re-introduced band- Tedeschi Trucks Band (TTB) to DPAC on June 12, 2011. Tedeschi Trucks Band will hit the road for the first leg of their 2011 World Tour, which features special one-night-only performances at a series of highly intimate venues throughout the Eastern Seaboard.

Tickets go on sale to the public beginning May 7th at 12pm:
• Online at DPACnc.com
• DPAC Ticket Center: 919.680.2787, 123 Vivian Street, Durham, NC
• Ticketmaster.com / Ticketmaster Charge by phone at 800.745.3000
• Ticketmaster outlets including Crabtree Valley Mall

Tickets start at $25 plus service charges. Friends of DPAC members may place their orders on Wednesday, May 4th. Joining the Friends of DPAC is free, and you can register at www.DPACnc.com/friendofdpac. Fans should check local listings for updated tour and ticketing information.
"Tedeschi and Trucks are 2 young artists who bring some revered old soul to DPAC. They offer a fresh take on classic blues, R&B and soul and they always manage to pay homage to the best that ever played. This caliber of talent in a setting as close as the DPAC stage can only be found in Durham, and fits our stated goal perfectly- to bring relevant, critically-acclaimed showcase performers to North Carolina." said Bob Klaus, GM of DPAC.
With the band name in place and an unparalleled lineup of musicians on-board, Tedeschi Trucks Band is set to tour the world and support their debut album Revelator, to be released in early June.
Derek Trucks was the youngest player to make Rolling Stone's "100 Greatest Guitarists of All-Time" list. With his own group, The Derek Trucks Band (dTb), Trucks built a devoted following through two decades of touring and seven acclaimed albums. Their 2009 release, Already Free won a Grammy® for Best Contemporary Blues Album. dTb's latest album, Roadsongs, is a live double-album recorded in Chicago during the Already Free World Tour in 2009. Trucks also found time to go on tour as a member of Eric Clapton's band in 2006, and has played guitar on studio albums by the likes of Herbie Hancock, Buddy Guy, McCoy Tyner, Dr. John, and Susan Tedeschi, in addition to his role as guitarist for The Allman Brothers Band.

Tedeschi's powerful voice, commanding guitar playing and fearless stage presence have made her one of the most stirring soul and blues musicians of our time. Tedeschi made her recording debut with her embryonic 1995 album Better Days, Tedeschi achieved an impressive musical and commercial breakthrough with her 1998 indie release Just Wont Burn, which won Tedeschi a Grammy® nomination for Best New Artist. Her next release in 2002 was the acclaimed, Grammy® –nominated Wait For Me. Her fourth album Hope and Desire, marked a substantial departure for the versatile artist, presenting her in the role of interpretive vocalist. 2009's Back To The River, Tedeschi's latest release, has earned widespread critical acclaim and yet another Grammy® nomination, for Best Blues Album. Be sure to check the official website, www.TedeschiTrucksBand.com, for the latest announcements.