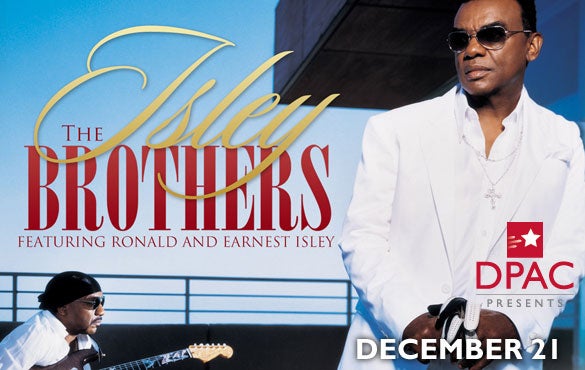 Thu,

Sep

20
The Isley Brothers Coming to DPAC on December 21
The Gift of Music Tour
September 20, 2012 (Durham, NC) – Considered as one of the most important and influential groups of the last half-century, The Isley Brothers featuring Ronald and Ernest Isley have enjoyed one of the longest, most influential, and most diverse careers in popular music. Come see why as they play at DPAC, Durham Performing Arts Center on December 21, 2012. This performance is presented in partnership with the DOME Group.
Tickets go on sale October 5 at 10am:
• Online at DPACnc.com
• DPAC Ticket Center: 919.680.2787, 123 Vivian Street, Durham, NC
• Ticketmaster.com / Ticketmaster Charge by phone at 800.745.3000
Friends of DPAC members may place their orders on October 4. Joining Friends of DPAC is free, and you can register at www.DPACnc.com/friendofdpac.
"The A-List of legends that have played DPAC just got bigger with this booking of the Isley Brothers. Based on requests from area concert fans, this is a show we have been working on for almost a year. With DPAC's unique setting of just 2,700 seats and world-class sound, this is a once-in-a-lifetime opportunity to spend an evening with two of R & B's biggest hit makers ever," said Bob Klaus, GM for DPAC.
"The Dome Group Inc is proud to once again partner with DPAC to bring one of the most influential R&B groups in history to Durham," says Sulaiman Mausi, owner of The Dome Group. "Fans will be treated to a once-in-a-lifetime experience when Ronald and Ernest Isley hit the stage! It's the perfect gift for Christmas."
The Isley Brothers have basked in the forefront of popular music for nearly 50 years. Their career is incredible: dozens of #1 hits, both singles and albums; more than two dozen gold, platinum and multiplatinum singles and albums; countless awards and the Brothers' induction into The Rock And Roll Hall of Fame in 1992. What's even more remarkable – and further indication of the Isleys' lasting cultural significance – is how they've reinvented themselves with each passing year, thus consistently reaping a fresh crop of fans. They are a bridge between today's most vital pop artists and the soul greats who brought the music out of the church and into mass consciousness.
The Isley Brothers began singing together as youngsters in 1950. Ronald, Rudolph, Kelly [originally O'Kelly] and Vernon started out as a gospel group, performing in churches and other venues throughout their hometown of Cincinnati. But in 1955, Vernon Isley was killed in a bicycle accident. The traumatized siblings would not reform the ensemble until 1956, the year they moved to New York. Still, Ronald Isley says they did not consider themselves a professional unit until 1959, when the trio logged their first hit, "Shout." Ernie Isley joined the family business in 1969, which opened the door to his now-famous bass work on "It's Your Thing."
After The Isley Brothers left their initial mark on R&B charts in 1959 with "Shout" – which would sell a million copies and become a standard – they scored the #1 R&B hit "Twist And Shout" (both songs were subsequently covered by The Beatles), in 1962. But it was 1969's "It's Your Thing" that cemented their fame, shooting to #1 on the Billboard R&B chart and ultimately selling more than five million copies. The song also earned a Grammy® Award for Best R&B Vocal Performance.
The Isley Brothers' significance cannot be expressed by chart statistics alone. In addition to their many other contributions to American popular music, the Brothers brought a virtually unknown guitarist by the name of Jimi Hendrix on their maiden tour of England, in 1964 (Hendrix made his first recordings with the Isleys and many have noted the influence of Ernie Isley on his playing). On the European leg of that outing, their keyboardist was a young man named Elton John.