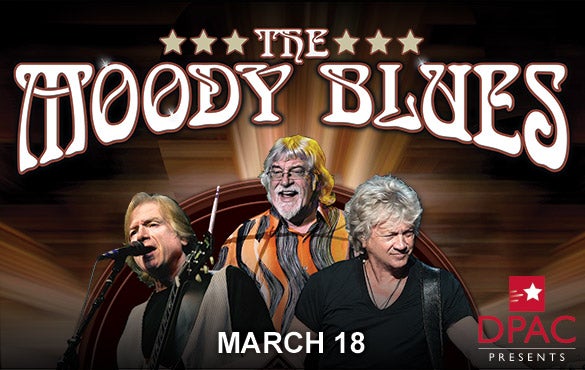 Mon,

Nov

4
The Moody Blues Back By Popular Demand at DPAC on March 18
November 4, 2013 (Durham, NC) – This November marks the 45th anniversary of The Moody Blues' legendary album Days Of Future Passed. Come celebrate this momentous occasion with The Moodies at DPAC, Durham Performing Arts Center, on March 18, 2014. The Moody Blues have played and sold out two prior performances at DPAC, most recently in March of 2012.
Tickets go on sale Friday, November 8 at 10 a.m.:
• Online at DPACnc.com
• DPAC Ticket Center: 919.680.2787, 123 Vivian Street, Durham, NC
• Ticketmaster.com / Ticketmaster Charge by phone at 800.745.3000
Friends of DPAC members may place their orders on November 6. Joining Friends of DPAC is free, and you can register at http://www.dpacnc.com/fod.
"The Moody Blues are still the Sistine Chapel of popular music." – Rolling Stone
In an endless sea of rock and pop formats, The Moody Blues have distinguished themselves through four decades as that shimmering jewel vindicating rock music as a substantial artistic contribution to Western culture. Since the '60s, as a part of the historic original British invasion, The Moody Blues have lit up the hearts and minds of millions of rock fans with inspiring anthems like "Nights in White Satin," "Tuesday Afternoon" and "I'm Just A Singer (In A Rock And Roll Band)," which express universal themes of love, compassion and peace. The band's unique style of music consistently finds airplay on radio stations globally and continues to illuminate concert arenas around the world. From being immortalized on The Simpsons to having their music featured in movies, television and in national advertisement campaigns such as VISA, The Moody Blues are embedded not only in music history, but in pop culture.
The band just recently celebrated the 45th anniversary of their monumental 1967 album, Days of Future Passed, which features "Nights in White Satin." It is one of the first four-minute songs played on the radio, became one of the biggest selling singles in history, and hit #1 three separate times on Billboard.
Since they first hit the rock scene The Moody Blues have continued to produce music that bridges the gap between rock, classical and pop-rock genres without ever wavering in integrity and commitment. Featuring guitarist/vocalist Justin Hayward, bassist/vocalist John Lodge and drummer Graeme Edge, The Moody Blues' sound has held its ground with exquisite harmonies over and over again. Since their formation in England in 1964, The Moody Blues have created music time and time again that offers rock music a depth that is unprecedented and inspiring.
The Moody Blues have sold in excess of 70 million albums worldwide and have been awarded an astonishing 14 platinum and gold discs. Their incredible roster of hits include "Nights In White Satin," "Tuesday Afternoon," "Ride My See Saw," "The Story In Your Eyes," "Isn't Life Strange," "Question," "I'm Just A Singer (In A Rock And Roll Band)," "Your Wildest Dreams," and "I Know You're Out There Somewhere." The Moody Blues' No. 1, Top 5, Top 10, Top 20, Top 40, multi-platinum, platinum and gold albums and singles, have generated sold-out tours on a consistent basis over the course of several decades, making them one of the top-grossing album and touring bands in existence.
The legacy of The Moody Blues lives on. As the world continues to revolve on its axis during any time of economic and political uncertainty, The Moody Blues have always been there to provide live music that is engaging and appropriate to the times. The Moody Blues will always offer that unique experience of rock and roll delivered with connectedness, commitment and a sentiment of peace.